A new year is upon us and changes haven't slowed down in the digital world. 2018 social media platforms aren't an exception. Every day there's a new update on social media platforms, services, and even new apps.
All those changes and updates impact businesses too. If your business is on Facebook, it might not be getting the same reach it has in the past. Mobile-ready content will be most important, it will be what as seen as normal now.
Creating a Facebook business page is still free but you might as well consider that the only thing you will get for free. Getting likes, reach, conversions or any other objective you have for your business page is going to cost you.
Organic reach of your Facebook page has been decreasing over the years and it now looks like Facebook will be killing organic reach completely. Organic reach is the % of people who have viewed updates or posts without needing to have put money behind it. The newsfeed where you currently see a mix of personal and company updates will no longer have company updates. The Explore Feed is a new rollout that Facebook has begun to implement last fall. This is where all company updates will be placed. The only way to appear in front of customer's eyes is to pay. If you want your company to be on one of the most popular social media platforms, it's going to cost you more than you think. In all honesty, a dollar a day isn't going to get you very far. Neither is $5. The trade-off for paying a higher price to show up is that the targeting is much more precise than Google Adwords or other ad platforms. If you want to target 27 year-olds that live in Chicago and like the French National rugby team, you can do that. You get what you pay for on Facebook ads so no worries on accidental clicks from people who hate rugby and live in Dallas.
If you haven't heard of Facebook showing all your ads and its copy within the year, now's a good time to be ready for it.

Are you reading this one your smartphone? Chances are high, with the projected number of smartphone users to reach 2.53 billion. You can purchase a car online if you wanted to! So your website and any other content you have must be mobile-ready content. If you don't have a responsive website, that should be the very first thing you take care of. Social media platforms are predominantly accessed through a smartphone. So any content you have on Facebook, Twitter, Instagram, etc., must be created with that in mind. Photos, videos, gifs, and soon AR will need to be mobile-ready and friendly.
What's Best for You
Being on every single social media platform available might not be the best thing for your business. Your clients might not even be on Facebook or Instagram. Researching data, your customers, and competitors will give you a better idea. Once you have the data, it's important to monitor it and use it to your advantage. Behind every social media account you create on a platform, there comes a voice/tone and format. You have to study that as well and implement and solidify your voice. Consistency and then diversity within what you publish is key.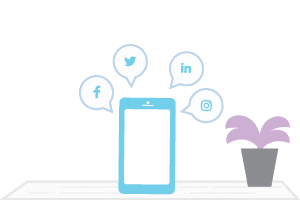 A short list 2018 social media trends that most likely apply to you is better than a long list that doesn't. If you have any questions, let us know. We are more than happy to talk with you!