TIP 1: Proper video lengths / Proper video sizes
At this point, we all know that social media is the best platform to distribute your video content to the masses. There are various channels to share video content such as YouTube, Facebook, Instagram, Twitter, and more. The beauty is being able to distribute the same video across all these channels and reach various people in each community. But, just like in real life, every community has its own unique characteristics and every social media channel has its own requirements and preferences. You'll need to learn how to create and set them up based on each platform's specifications in order to drive engagement and views to your social media marketing videos.
To set your videos up for success, you want to format them specifically to each social platform as they affect the quality of the video and the experience that the viewers will have. We did the homework for you and created a cheat sheet with all the requirements that the four most common platform ask for: swipe through below to see the different platforms.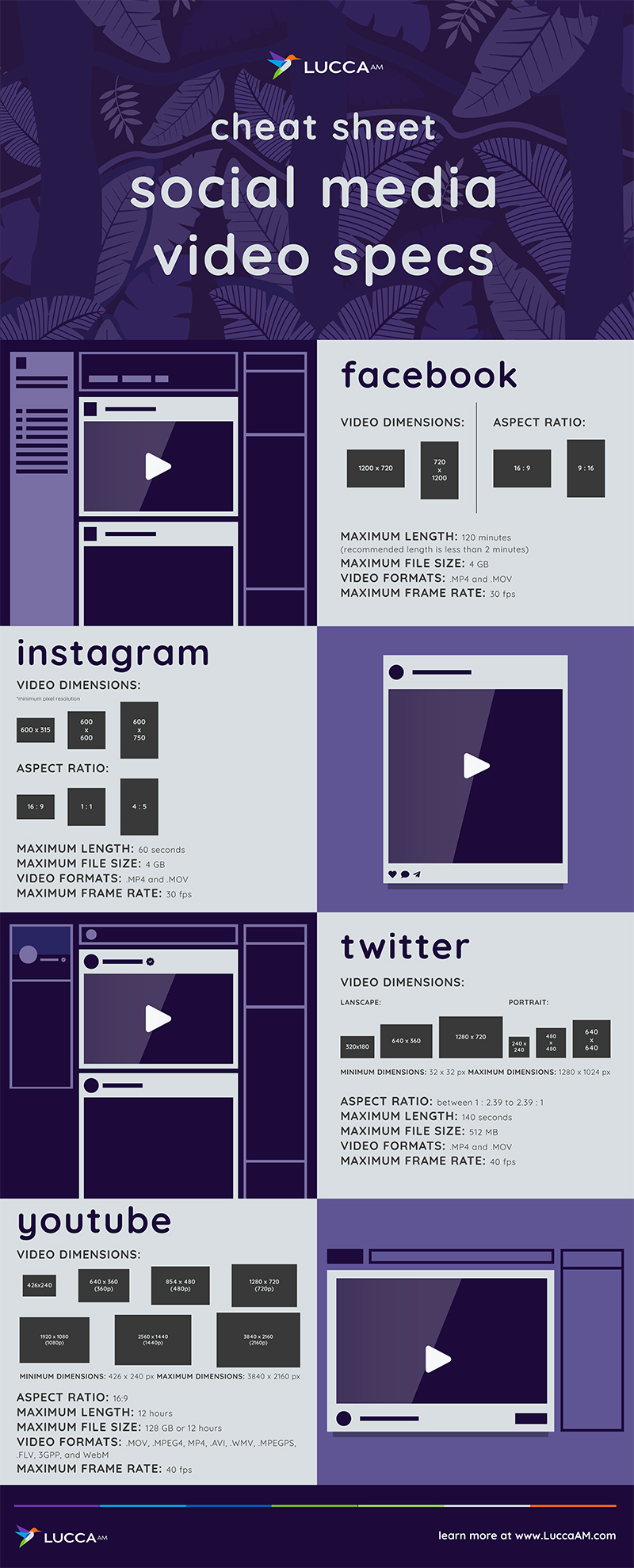 click here to download the social media video specs cheat sheet
Now that you know how to set up and create your videos properly, you'll want to know what's the sweet spot for each platform. According to a research done by HubSpot, here the most recommended time frames for social media video to get the best results:
Facebook videos: 1 minute
Instagram videos: 26 seconds
Twitter videos: 45 seconds
YouTube videos: 2 minutes
Your video length and how it is formatted within each social channel is vital to consumer engagement, so don't forget these two important pieces!
TIP 2: Deliver efficiently, don't wait to show them what they came (value-driven content)
Feeds these days are flooded with content. Your content suddenly has become a brick on a wall and it has gotten harder to reach every person that follows you. To get people to engage with your videos you want to make sure you're providing content that's beneficial and relevant to your target market. Beyond that, you want to make sure you deliver that information quickly. We call this creating value-driven content, simply because the content is made with a measurable purpose and with the delivery in mind. Your following and engagement will increase as you add content that connects with your audience. Attention spans are microscopic these days, every second counts when trying to get the attention of someone on social media. In order to create value-driven content, you'll need to know your audience. Check out tip #6 to learn how to define your audience.
TIP 3: Invest in professional video quality
Investing in professionally produced video content should be a given but not everyone can afford to or believes in the potential return on investment. Social media users see hundreds of posts per week, it is not difficult to see who invests in their content and who doesn't. Working with professional videographers can help you elevate your content by showing your message in a clear and refined way. It's a great way to show your followers you mean business and in turn creates more trust, which leads to more sales.
Beyond improving the quality of your videos, videographers can also help you direct your videos to create more effective storylines. They may have better knowledge on what angles, scenes, styles, and other aspects fit your product, service, and/or business best. As a creative agency, the more we work with our clients the more we learn their brand and what makes them unique. As the relationship grows so does the quality of work, don't be afraid to entrust video content to a professional as they can provide a fresh new perspective.
TIP 4: Take longer videos and turn them into mini clips
If there's anything you take home today, this tip is one to tab. To really get the biggest return on your video content investments, take your longer videos and create shorter video clips. To do this, select key time frames within your video and create 1-2-minute micro videos. Instead of posting the video once, you can now take the same piece and create multiple posts out of it.
The more you post, the more you're likely to generate engagement. This is a strategy we like to use with The Humm channel we have on YouTube. We use The Humm to share valuable information that could help business owners, creatives, and anyone trying to get involved with the e-commerce world. These videos are usually longer than 5 minutes and we like to take create shorter snippets and share them on our other social media platforms. As you learned, every platform has different ideal time frames, so we take that into consideration when selecting time frames.
The key is that you're creating value driven clips that are much shorter for people to watch from start to finish. It will allow you to deliver information, messages, and call to actions much more effectively. We also found that it helps you improve your videos, looking for main highlights lets you see how much value your content has.
TIP 5: The first 10 seconds are what make the difference
First impressions are everything. With the amount of content out there, users are wanting to be impressed immediately. We always say, the first 10 seconds of your video is the most important part of making your content successful. If you cannot hook and keep someone watching in the first 10 seconds, they've already scrolled past and moved onto the next post on the feed. According to a consumer study done by Microsoft, it was found that the human attention span has dwindled to 8 seconds from 12 seconds back in the year 2000. To leave a lasting impression, it is best you focus on creating a story with a clear message. Which is a perfect alley-oop pass to our next tip:
TIP 6: Focus on the story and message
People are engaging with content that connects to their values, lifestyles, and interests. It is important to know the audience that you are trying to attract to your business. As you learned on tip #2, value-driven content encourages people to engage and interact with your posts. Learning what matters to your target audience allows you to create compelling videos that create mood and emotions. People are more inclined to act when you leave a lasting impression, try to think about what they're going to see, how they may feel when seeing it, and how you want them to remember it.
When we work with brands, we like to learn everything about the brand's personality, image, product/service, and anything else that makes them unique. We then take the time to learn the characteristics of their landscape, competitors, and target audience. This allows us to create content with valuable information that stands out. Here's a short checklist of some of the key traits we look to find out audience traits:
age
locations
gender
income level
education level
occupations
ethnic backgrounds
lifestyles
values
interests
behaviors
personalities
TIP 7: Look inside your brand/company for easy and valuable content
Sometimes creating video storyboards can be overwhelming. When you're struggling to create video content, you can always look inside your business for valuable social media content. People on social media have grown an appreciation for various aspects of a business such as their behind-the-scenes footage, seeing people who work for the brands, and getting questions answered through videos. Taking this approach is a great way to get more personal with your follower by connecting the brand, the process, and the product/service. Here are some quick ideas you can use to create content generated by your every-day-business activity:
Use your FAQ page! Your FAQ page is a pot of gold for video content because you're generating videos that have valuable topic points that attract the right people to your posts. It also lets your audience know that you are listening to their questions and are taking the time to answer them. In addition, by starting a video with a question the viewer knows it'll end with the answer, making it more likely that they'll stick around until the end of the video to get the answer.
Take behind-the-scenes footage! This has become one of the coolest ways to make videos that make your business look super interesting. Everyone sees the product on the shelf or can walk into a service-based business. However, what they don't get to see is how it's all made possible. You are essentially showing people the hard work it takes to make your business happen, this is a great way to justify your pricing and build more credibility on how you go about your business and what you're selling. This develops a new form of transparency with your followers that allows them to fall in love with what you do and how you do it. Once you get someone passionate behind your idea, getting the sale from them becomes even easier. If you have a product, try showing footage on how the product is made, show design samples, machinery at work, and other areas that make your product happen. If you provide a service, you can show how you prepare every day to be ready to serve your customers. If you believe in your process, don't be afraid to show it off!
Film your team at work doing work! Consumers have more choices than ever before, especially when shopping online. One of the biggest concerns for online shoppers is being able to trust whomever you're trying to make a purchase from. Use videos to connect your followers to the people that make it happen in your business. This is a great way to humanize your brand and social media accounts. This builds trust in the communities that you cater to, which helps build the consumer confidence to visit your website and make a purchase. People can see the passion in your employees and see that you are a company that values its employees and cares about quality.
TIP 8: Live streams create connection and stay as video content
Another quick way to create videos on your feeds is to live-stream moments in your business. By going live on Facebook or Instagram, you create instant hype to an event, sale, or announcement. In addition, that live stream can be saved onto your timeline, so it stays for those who missed the live broadcast. You can go live if you're attending a conference, hosting an event, revealing a new product, adding a new service, want to deliver a special announcement.
Make sure to let your audience know what the live broadcast is for so that your followers aren't left confused, you can do this through the introduction and by engaging with people on the live stream. Your live streams can be planned by advertising that you'll be going live at a certain time and day to ensure you have an audience when going live. Once you're filming, don't forget to add a call-to-action to make sure your video generates interaction. After the stream is done, you can promote the video by sharing it on all your social media platforms. Make sure to be selective with live streams, too many of them can devalue the golden moments you do decide to go live and less people will want to watch them when they get the notification.