In August 2019, Facebook made a pretty big change to how ads will display in their mobile News Feed.
Less Space For Advertisers
Facebook has changed their mobile News Feed ad format to reduce the amount of text shown. According to Facebook, "Now only 3 lines of primary text will show on Facebook mobile News Feed. After which, people will be prompted to click to view additional text." As an advertiser you will need to rethink those first 3 lines of text.
You are no longer afforded all of that space to deliver your message. You will need to carefully craft your text within those 3 lines because it's the only text the user will see before they interact with the ad and click the "See More" button. Facebook Ads can be highly effective but with each of their ad types, you need to customize your assets and content to best suit that ad type. The same thought needs to go into these changes. The ad format has changed, now how do your ads need to change?
It's not just the amount of visible text that has been reduced. Facebook is also reducing the media height for photos and videos to a 4:5 ratio. If the videos or photos within your ad are taller, they will automatically be masked by Facebook. It's important that you update any ads you have running now to properly fit this new size or your ads may be displaying differently than you intended.
Here is how mobile New Feed ads appeared before the change and how they appear now: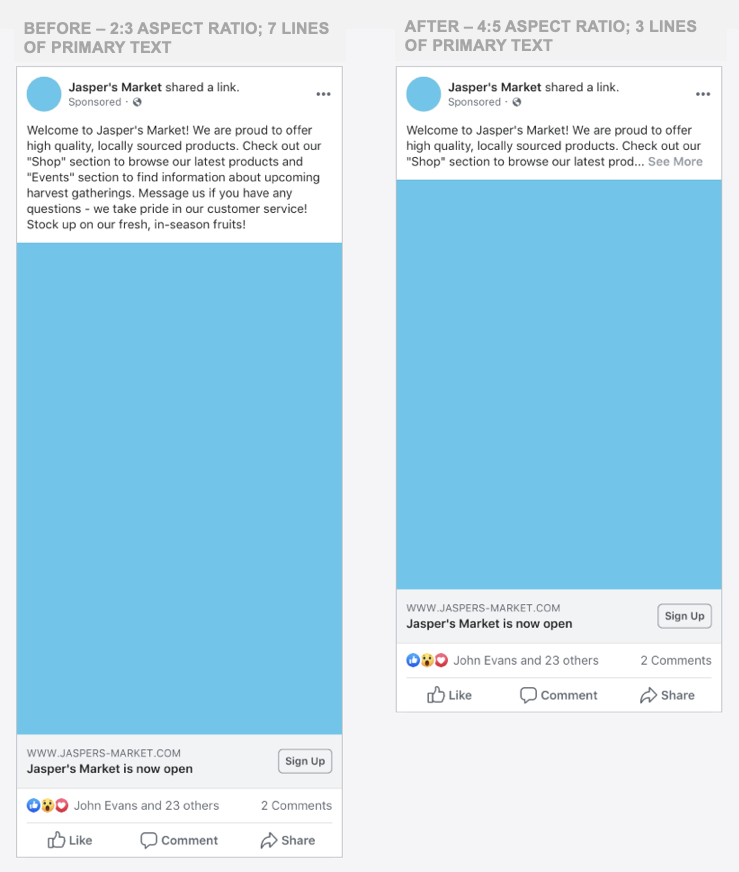 Why Facebook Is Changing The Ads Format
Facebook states that they are making this change to provide a consistent mobile experience. Also to allow advertisers to use the same assets on Facebook and Instagram. This change also plays a part in Facebook's attempts to give their users more content from their friends and less space to ads in their News Feed. Users have been complaining how ads consume more space than ever in their News Feed.
Latest posts by Kevin Lucca
(see all)