We all get the little red notification dots within Facebook that prompt us about various actions and interactions on Facebook. These dots can alert us that someone followed us on Facebook, that a friend request we sent was accepted, that someone sent us a friend request, that a friend of ours is posting a live video, and a variety of other things.
Since the inception of Facebook, this little red notification has been alerting all Facebook users of any and all of their updates within the platform. However, this week certain users are beginning to see a new set of options which allow them to go through a list of things they can potentially be notified about, and turn off the ones they do not wish to receive any longer.
Social media expert Matt Navarra reported with the image below that Facebook is rolling out these new selection options that allow users to "push" or "mute" notifications of their choice, or to "clear" them.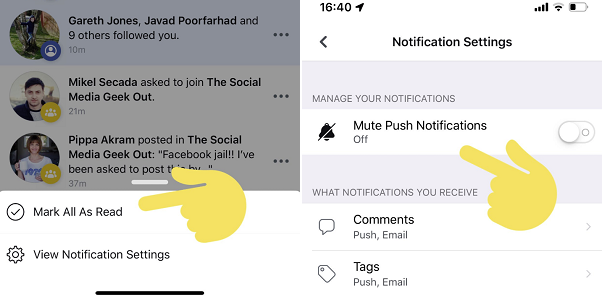 (Image by Matt Navarra)
This new option will allow users updates for whenever they choose. These options have previously been scattered throughout various sections of the Facebook platform for users to locate individually and change their notification settings one by one. Now they can all be changed within the same area.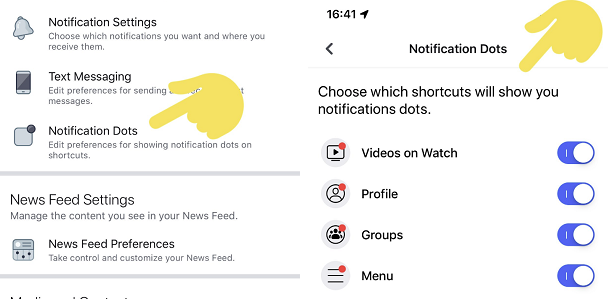 (Image by Matt Navarra)
See the above image from Matt Navarra. This image shows how Facebook now allows you to navigate to one central location and remove just about any of the many red dot notifications that you don't wish to see in your feed.
Facebook was quoted in TechCrunch stating that these new updates have been rolled out for testing in certain user accounts, to start.
"We are testing new ways to give people more control over the notifications they receive in the Facebook app. People don't necessarily want to see a notification on the badge [the in-app dots on tabs] if they're already getting notifications in the jewel [the red counter on the Facebook app icon on your phone's homescreen]"
TechCrunch also says that if this feature doesn't result in a large drop in engagement on the platform that Facebook will most likely roll it out to all users.
This would mean that you, the user, would have the option to determine which – if any – red dots you want to allow to distract you while you're utilizing the Facebook platform.