Google AdWords – You're Doing it Wrong
Perspective
/ Dec 1, 2016
Google AdWords – You're Doing it Wrong

I know what you're thinking… "No, I'm not!"
Trust me, I am saying this for the benefit of each and every penny of your precious ad dollars. I will take this back to those of you who are also Google AdWords Certified and have run successful campaigns, but for the majority, even the definition of "successful AdWords campaign" is generally wrong.
Google is amazing at providing a user-friendly experience to quickly create and run an ad, yes. But with anything quick and easy, you generally receive low-quality results. Think about it, a perfectly cooked Medium-Rare Prime Rib that has been aged, seasoned and perfected to the ultimate taste compared to a fast food chain cheeseburger. The cheeseburger is undoubtedly fast, quick and easy…but it will never come close to the delicacy of a professionally cooked steak. Okay, now I'm hungry…maybe the food analogy wasn't the best idea.
But you get it, and the same goes for your digital ads on Google, Facebook or other search and social engines. Most importantly though, Google. An actual Google AdWords Certified individual is able to create, maintain and manage your AdWords in ways that best suit your goals. For example, you don't use just any type of campaign and click "Go." What are you promoting? Something to sell online? A video? There are actually four different types of promotions to capitalize on depending on what your ads will be about. Too many times we see people run their ads in the completely wrong type of campaign. But how would they know any different when Google's user-friendly setup does not go into the seemingly infinite detail of what your campaign can, and should, do?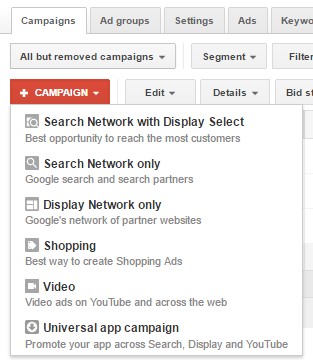 At this point, I wish I could tell you it is as easy as that. "Oh, I have a video I want to make an ad. I will just run a video campaign!" The reality is, choosing the type of campaign you will be running (as far as Display, Search, Shopping or Video) is only the very first snowflake on the tip of the iceberg.

To better visualize what a single Google AdWords Campaign looks like:
Moreover, inside each of the factors that go into one Google AdWords Campaign, are many different options to capitalize each tactic to tie into your campaign strategy. I realize how overwhelming this can seem if you are looking at this for the first time. Which is why it is vital to have a Google AdWords Certified professional to create, manage and maintain your AdWords campaign on a daily basis. Yes, daily! Your budgets, bids, bid strategy, keywords, ad health and so much more need to be worked on every day to make sure every penny you spend is going towards your campaign properly. Otherwise, you are simply throwing your ad dollars away.
Decision Time
So, if you still think you can do this on your own while also championing your current daily tasks in your job, then I would encourage you to do some research, or even take the certification exam. If all the questions seem relevantly easy, and you pass the test with flying colors, then I fully support your decision. However, if this is not the case, I encourage you to do as our satisfied clients have done. Give us a call today or shoot me an email. I'm Sally by the way…and you can reach me at (815) 880-8676 or hello@luccaam.com. I'm happy to answer any questions you may have, whether you are a current client or not. I have a passion for what I do, and those curious about how this can be done excites me. Therefore, please don't hesitate to drop a quick line and say, "Hello!"
Finally, here are our official Google AdWords and Google Analytics Certifications to show we are far more than just talk. So let's get together and do the walk! Or run, which is more our speed at Lucca Alla Moda.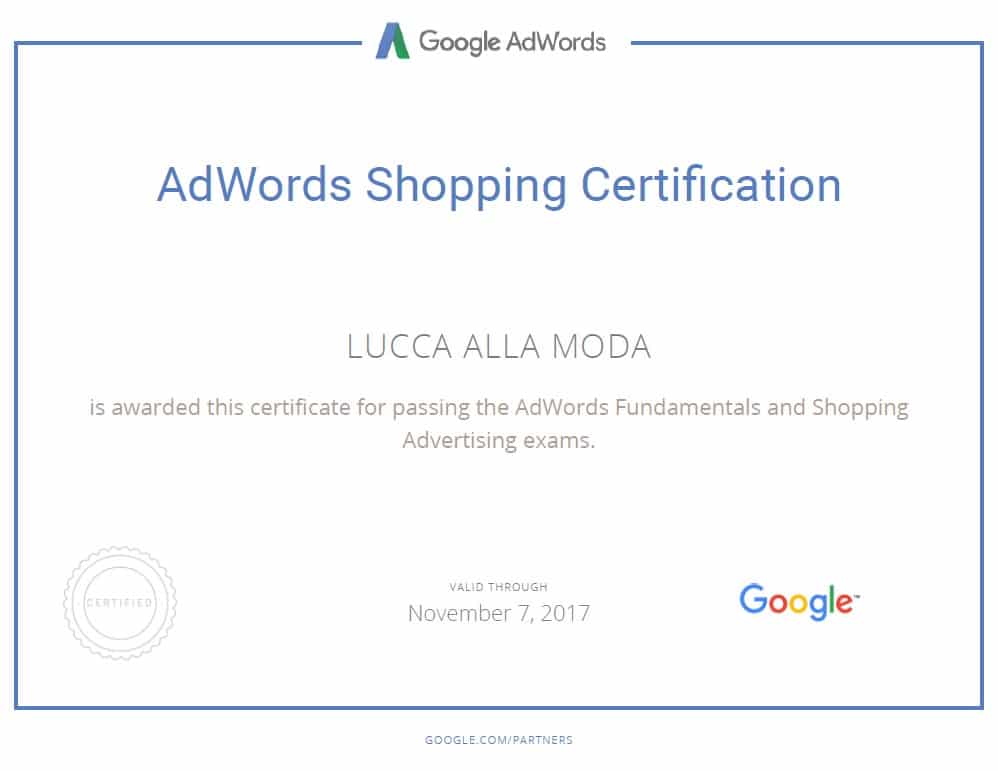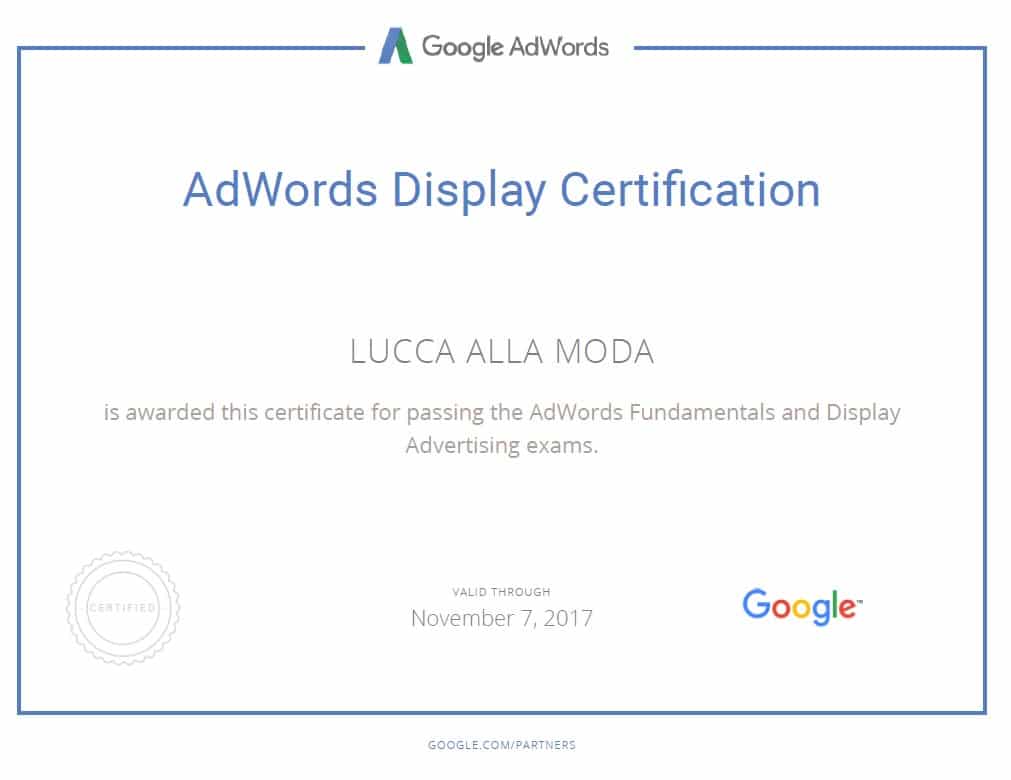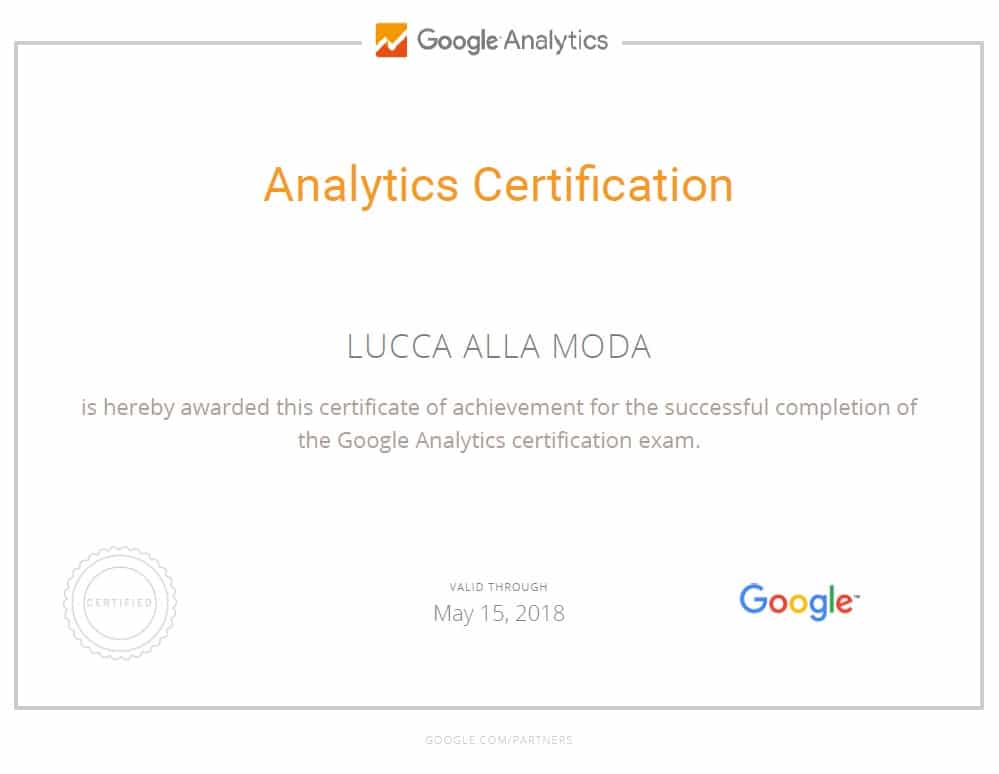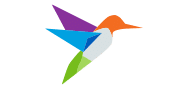 The Expert eCommerce Agency That Will Grow Your Store
Get My Free Proposal
Stay in the loop on all perspectives.
Subscribe