In the age of digitization, your online presence can make or break your business. And regarding online visibility, Google Business Profile (formerly Google My Business) is one of the most effective tools for local SEO. This article provides a detailed checklist to optimize your Google Business Profile and help your business flourish.
Google Business Profile Listing: What, Why, and How
Claiming or Creating a Listing
The first step in establishing your presence on Google is to claim or create your Google Business Profile listing. If your business is already listed, claim it: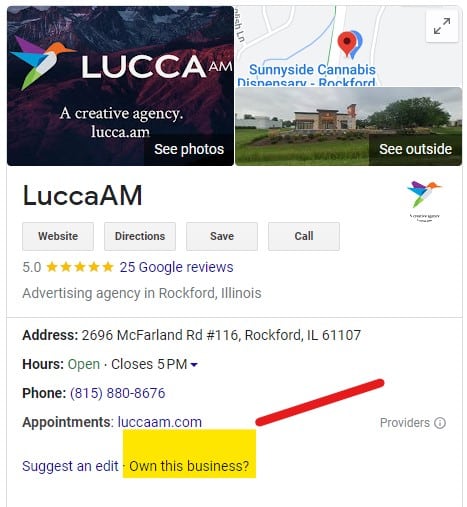 If not, create a new one by visiting this page for creating a new Google Business Profile: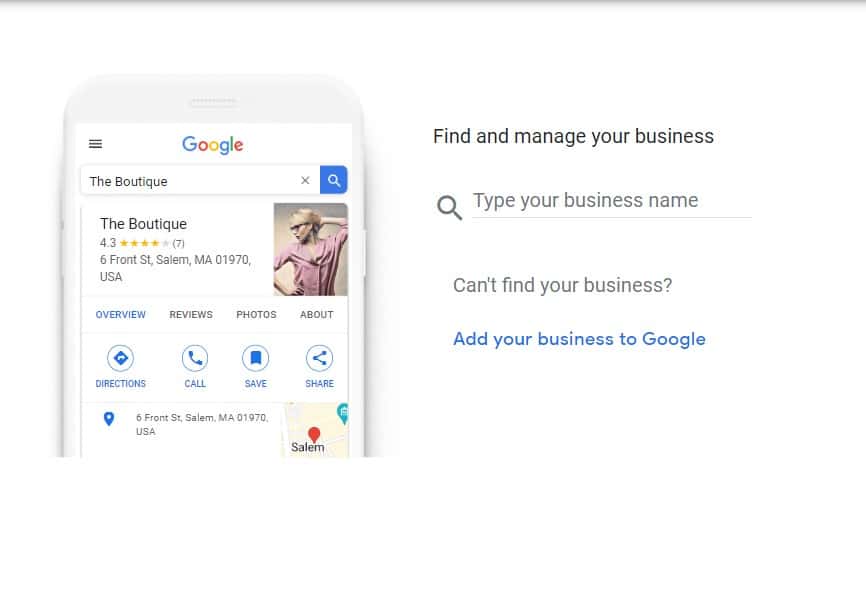 Follow the prompts to create your profile.
Verifying Your Listing
After creating or claiming, verify your listing. There are several ways Google may have you verify your Google Business Profile. 
Postcard Verification:

Google sends a postcard to the physical address the business provides. The postcard includes a unique verification code that the business owner can enter into their Google Business Profile to confirm their location.
Phone Verification:

For some businesses, Google allows verification over the phone. Google will call the business number provided and give a verification code to input into Google Business Profile.
Email Verification:

Similar to phone verification, Google may allow some businesses to verify via email. A verification link or code is sent to the business email provided.
Video Verification:

Google sometimes asks for a street-view video of the business storefront for verification. This is often due to Google having issues finding the address, another business using the address, or the address provided being residential. 
It's important to note that the business category will have much to do with verifying the profile. If your business doesn't have a physical address, select a category that best describes your business, such as "consultant" or similar.

Other services may only travel to the customer for business, in which case they may also opt out of having a physical business address. Still, they will need to provide the service location instead.
Setting Up Your Google Business Profile
Setting Up Users with Proper Access
Who should have access to your Google Business Profile? Set up users with proper access depending on their roles. This can range from site managers to communications specialists.
Here are the steps to add a manager or transfer ownership of your Google Business Profile:

Step 1. Click on the three dots located to the right of the "profile strength" infographic.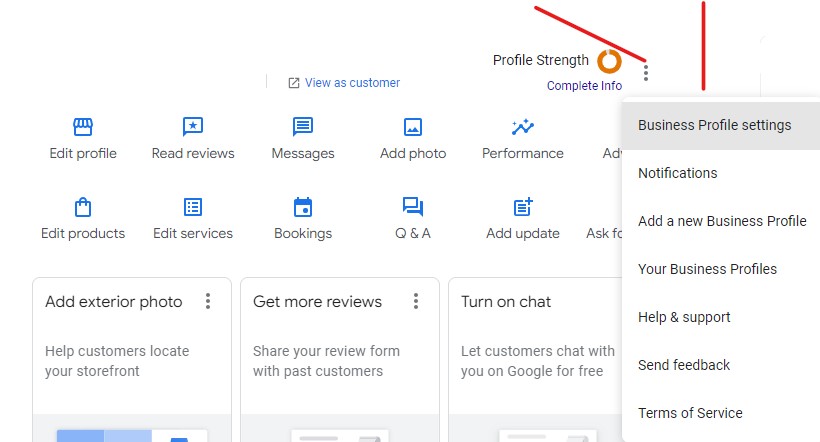 Step 2. Click on "Managers" to add, edit, and remove profile managers.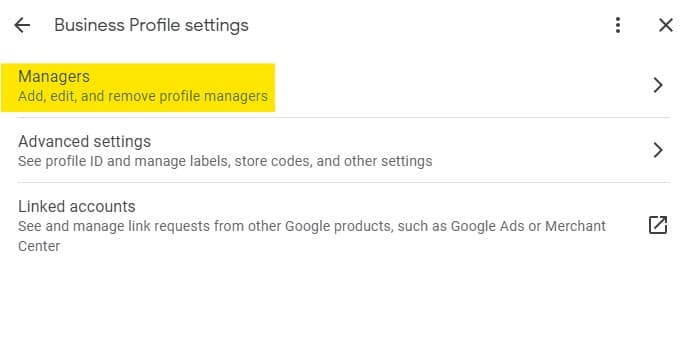 Step 3. Click "Add" to add a new manager.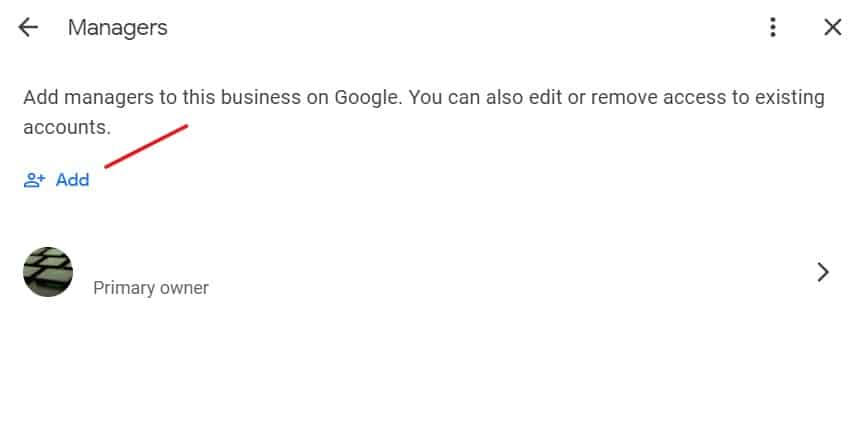 Step 4. Enter the email address of whoever you'd like to manage the account and click "Invite." If you're transferring ownership of the Google Business Profile, then you can check "Owner" before sending the Invite. Note: This email will need to be connected to a Google Account.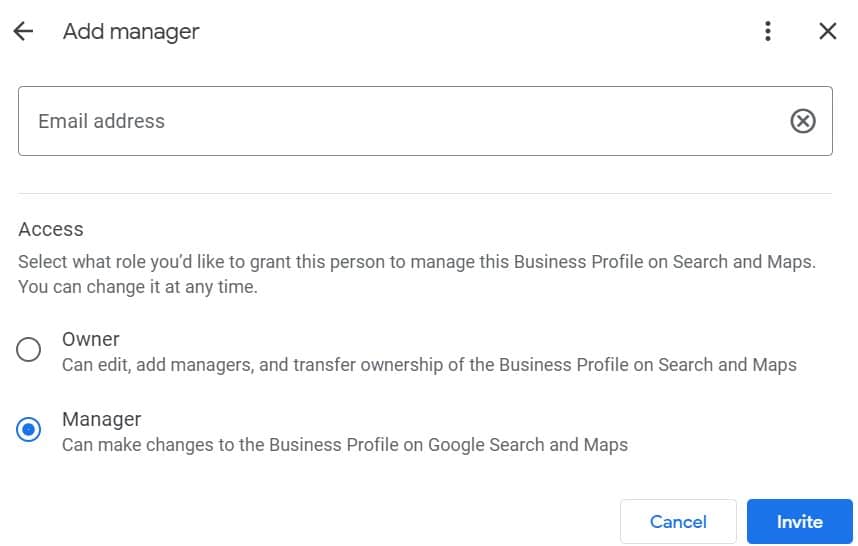 Optimizing Business Information
Ensure that your business information, such as the name, address, phone number, hours of operation, and categories, are accurate and fully optimized.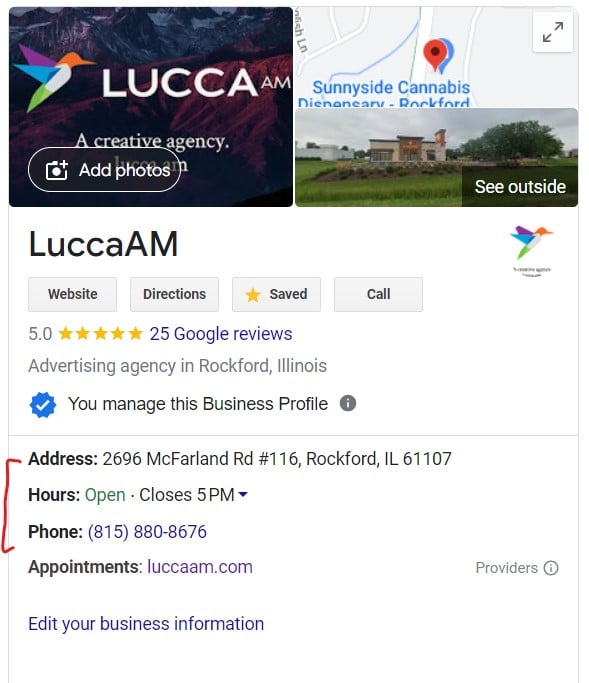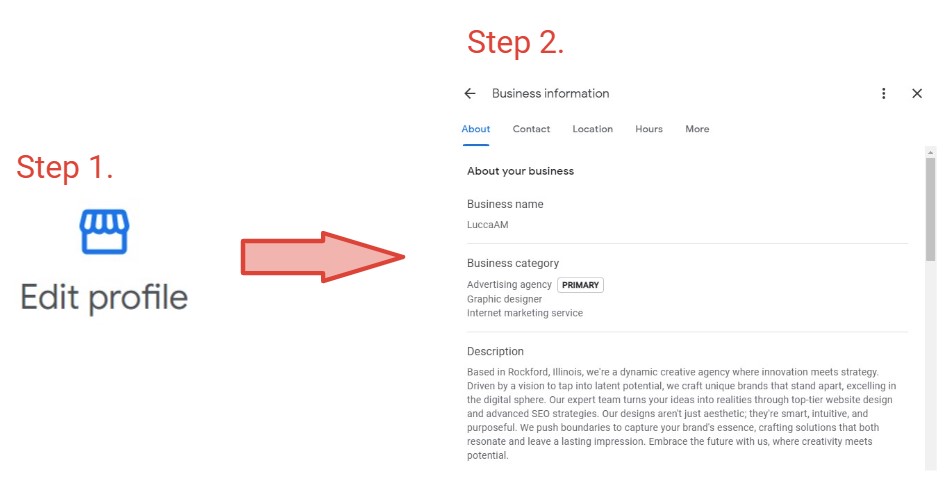 This is what Google and your potential customers see, so it must be accurate.
Enhancing Your Business Profile
Adding Photos, Videos, and Virtual Tours
Visual content is a powerful engagement tool. By adding photos, videos, and even virtual tours, you can offer customers a vivid glimpse of your business.
Step 1.



Step 2.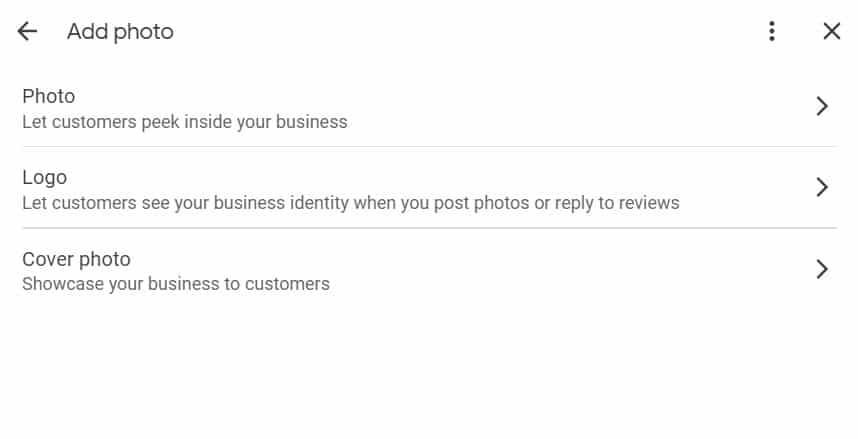 Adding Products, Services, or Menus
Add details of your products, services, or menus depending on your business type.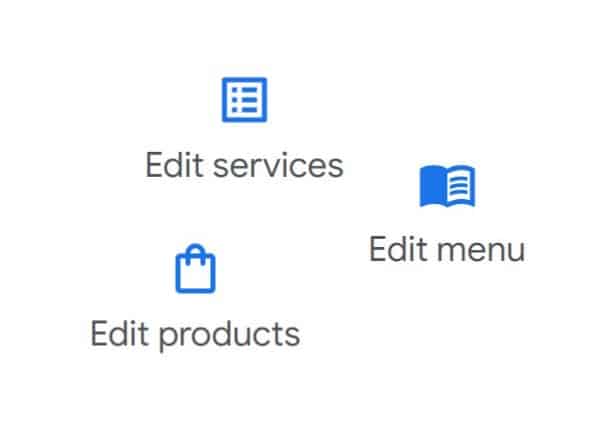 Products: If you run a retail store or an e-commerce platform, detailing your product range can make a world of difference. Specify whether you offer 'sustainable summer dresses,' 'handmade leather boots,' or 'artisanal home decor.' These specifics can attract customers looking for those exact items.
Services: For service-based businesses, clarity is key. Do you offer 'content creation,' 'social media management,' or 'SEO optimization'? By being specific, you cater to the needs of potential clients searching for those services.
Menus: For restaurants, cafes, or any food-related business, a detailed menu can be a game-changer. Giving potential diners a glimpse of what to expect can entice them to choose your establishment over others.
The more specific you are, the easier it is for customers to decide they want what you're offering.
Pre-populating Q&A and Offers
Importance of Q&A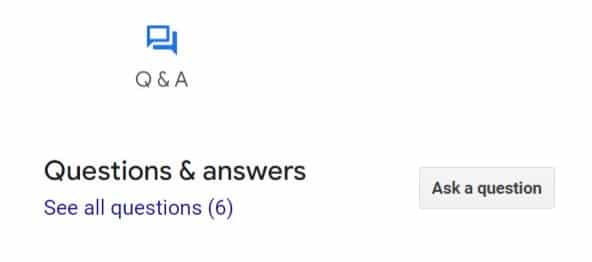 The Q&A section is a valuable tool for engaging with potential customers by addressing their queries and concerns. By pre-populating this section with common questions, you demonstrate proactive customer service and streamline the decision-making process for potential clients.
This proactive approach saves you and your customers time and builds trust by showcasing your business's transparency and eagerness to assist.
Setting Up Welcome Offers and Regular Updates
Adding 'Offers' and 'Promos' can be a powerful incentive for potential customers, enticing them to try your products or services.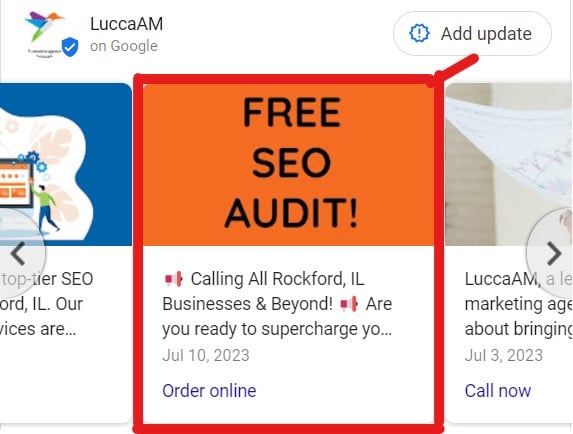 These offers often act as a warm handshake, signaling that you value and appreciate their interest in your business.
By consistently updating your offers and promotions, you keep your business listing vibrant and current and demonstrate to existing customers that you always strive to provide better value. Such dynamic updates can encourage repeat visits and foster customer loyalty.
Customer Reviews: The Lifeblood of Business Profile
Encouraging Reviews
Encourage your customers to leave reviews after their experience with your business. Genuine feedback in the form of reviews not only boosts your online reputation but also plays a significant role in local SEO.
Related: Check out this article on how to make a custom QR code to receive more reviews.
Positive reviews can instill trust in potential customers, while constructive feedback can offer insights for improvement. By actively seeking reviews, you show that you value customer feedback and are committed to continuous growth.
Monitoring and Responding to Reviews
It's crucial to regularly monitor and respond to reviews, whether they're positive, negative, or neutral. Engaging positively with all reviews showcases your commitment to excellent customer service and builds a rapport with your audience.
Acknowledging praise can strengthen loyalty among satisfied customers while addressing and resolving concerns can turn a negative experience into a positive one. Active engagement enhances your brand's image and promotes transparency in your business operations.
Regular Checks and Updates
Importance of Regular Checking
Regularly check your Google Business Profile for accuracy. Google allows user suggestions for edits, which can sometimes lead to errors.
Updating Your Listing
Update your listing regularly. This ensures your customers always have the most up-to-date information about your business.

Leveraging Google Features
Direct Messaging
In an era where instant communication is highly valued, direct messaging can be a pivotal tool for businesses. Consider enabling this feature to offer potential and existing customers a swift and direct channel to reach out to your team.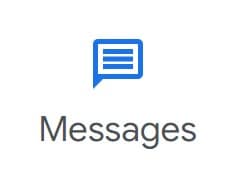 Such real-time interactions can address queries, resolve concerns, or even finalize transactions, enhancing overall customer satisfaction. By offering direct messaging, you streamline communication and showcase your business's commitment to being readily accessible and responsive to customer needs.
Reserve with Google
For hospitality, dining, or service businesses, timely reservations are crucial. If this aligns with your business model, consider enabling the 'Reserve with Google' feature.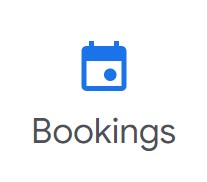 This intuitive tool allows customers to make reservations directly from your listing, simplifying the booking process and reducing potential barriers to conversion. Integrating this feature provides an added convenience that can enhance the overall user experience.
Getting Support for Google Business Profile Issues
If you have questions or face problems with your Google Business Profile, don't hesitate to seek help. Google has a detailed support section for such issues. Here are some resources you can use to help with your Google Business Profile:

Phone: Reach out at 1-844-491-9665, 1-866-2-Google (1-866-246-6453), or 1-650-955-6653.
Email: Use the provided form for email submissions.
Live Chat: Engage directly through Google support chat.
X (Formerly known as Twitter): Send a tweet to @GoogleMyBiz.
Facebook: https://www.facebook.com/GoogleBusinessProfile/
Google Support: Visit the support URL

Conclusion
Optimizing your Google Business Profile is not a one-time job but a continual process that can significantly boost your online visibility. This checklist will ensure your business stands out, enhancing local SEO and attracting more customers.
FAQs
Is Google Business Profile free to use?  
Yes, Google Business Profile is a free tool provided by Google for businesses to increase their online visibility.
Why is it important to verify my Google Business Profile listing? 
Verification proves to Google and your customers that your business is legitimate. It also gives you full control over your listing.
How often should I update my Google Business Profile? 
It's recommended to regularly update your listing, especially when there are changes in your business hours, services, or contact details.
Can I manage multiple locations with a single Google Business Profile?  
Yes, you can manage multiple locations under one profile. Each location will have its own listing that can be individually optimized.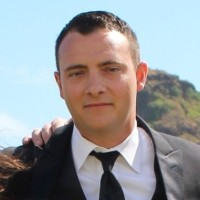 Latest posts by Jason Rostar
(see all)