Magento which is owned by Adobe had made it clear that Magento 1 will no longer be supported by the company at the end of June 2020. If your website is currently running Magento 1, it's important to have a path forward. Magento powers a high percentage of all eCommerce stores. This is a double edged sword. Magento is highly utilized because it's a powerful platform that allows for an endless amount of customization. The downside is that it can be a very popular hacker target because one breach on the platform can allow a hacker to go after the same vulnerability on any site that runs that version.
Since 2014, Magento 1 hasn't had any major new releases and has only released security focused patches to keep the platform safe. These security patches from Magento ends in June 2020 as part of their end of life roadmap. Magento and Adobe have been heavily focused on developing and improving Magento 2, their successor to Magento 1.
Magento 1 Migration Options
With a possible wave of security problems on the horizon, it's important to have an upgrade path in place. We recommend two possible paths forwards, upgrade to Magento 2 or migrate to a SASS cloud hosted eCommerce platform like BigCommerce.
Migrating to Magento 2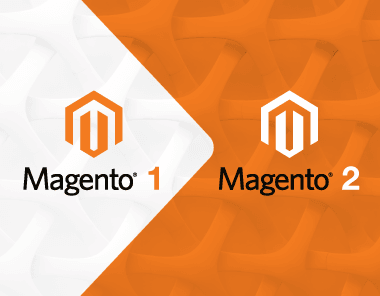 If you are currently on Magento 1, migrating to Magento 2 seems to makes the most sense. It's a platform you know already and trust. There are just a few things to know.
While it shares the same name, Magento 2 is completely different from Magento 2. Unlike with WordPress for example, you can't just upgrade your site to the latest version. The code underlining the two platforms are very different. Your website, theme, and features will need to be recoded from scratch. This doesn't mean you can't have your store look the same to your visitors. Your website will just need to be recoded to look the same but on Magento 2's codebase.
Extensions are different too. Your Magento 1 extensions won't work on Magento 2. You'll need to rebuild or purchase Magento 2 version of your extensions. When Magento 2 initially launched a few years ago, it was hard to find Magento 2 versions of extensions. Today, they are much more available.
Migrating to BigCommerce
Being required to recode your website while frustrating is also an opportunity to try something different.
Utilizing a cloud based eCommerce platform like BigCommerce, your website can be rebuilt and all of your customer and store data can be migrated over. With BigCommerce, there are a lot of improvements over Magento. Being cloud hosted, you no longer have to worry about keeping up with security patches or upgrade steps. BigCommerce handles everything and it's seemless. New features are added all the time, PCI compliance is completely done by BigCommerce, you can leverage a right app marketplace to improve your store with ease. For the monthly rate your hosting, SSL certificate, PCI compliance, security, and 24/7 support is all included.
---
Regardless of which path makes the most sense for your business, it's important to start planning a migration patch right now and not after a security breach occurs which can compromise your customers data and damage your business.
If you need help or have more questions about migrating from Magento 1, contact us.
Latest posts by Kevin Lucca
(see all)