As a business owner, there's an alternative campaign strategy to supplement the conventional keyword-centered search campaign and smart shopping model. Performance Max is a recent goal-based marketing campaign tool that allows advertisers to grow their reach by using Google Ads' multiple advertising platforms.
With a single campaign, an advertiser using Performance Max can access the whole range of Google's advertisement formats from Gmail to Search, Maps, YouTube, and Discover.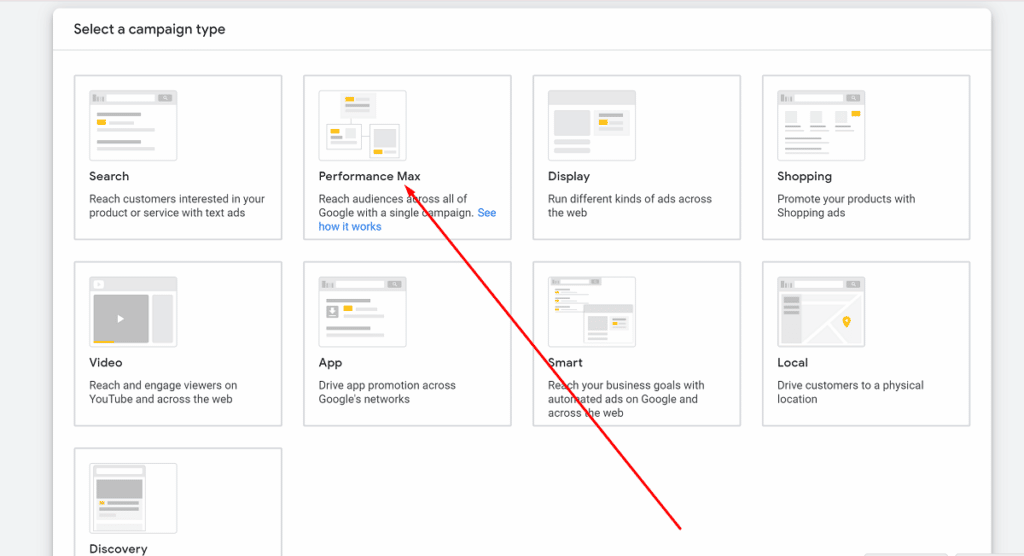 What Is Performance Max?
Performance Max is a Google Ads campaign that lets advertisers explore the different advertising formats across Google to reach a wider audience and boost conversions.
This automated performance-based ad format enables retailers to run their entire campaign on multiple platforms from a single channel. Advertisers can automatically set their conversion targets.
With Performance Max, you can drive higher conversions, and monitor campaign performance in real-time through optimization tools and Smart Bidding.
Why Is Performance Max Different From Other Campaign Types in Google Ads?
What makes this new campaign type stand head and shoulders above other campaign types in Google Ads is it allows an advertiser to run their campaign on several channels, including Search, Discover, Maps, and YouTube.
In brief, here's how Performance Max differs from other Google Ads:
Single campaign available across multiple Google channels.
Budget optimization through AI-driven ad performance optimization tools.
Possibility of greater conversion through the performance-based campaign.
Enhanced reach in new niches as the campaign provides real-time feedback on shoppers.
More impactful than a conventional Google search campaign.
The campaign is based on the creative input of advertisers: you come up with the videos and images that best suit your targeted audience.
This is unlike other campaign types that run independently on these separate platforms. That means, if you wanted to run a simultaneous campaign on several platforms, they had to be separate campaigns. Performance Max solves that.
How Performance Max Campaigns Work
The campaign, which uses automated AI bidding, helps the advertiser to optimize the different channels for better conversions.
An advertiser submits videos, audio, images, and text for the campaign, and Google's automated Smart.
Google's AI system advises on the best combination of assets (images, video, etc) for the different platforms on which you run your campaign. For example, if you have supplied GIFs, videos, texts, and audio for the campaign, the machine learning system will identify the best combination for the YouTube ad and another set of creative assets for Google Search.
By use of Audience Signals and how you bid, you can effectively target your campaign ads to reach the right audiences.
Performance Max is likely to grow conversions faster as it's predicated on a data-driven model across several channels. Advanced automation makes it capable of predicting customer behavior thereby choosing the best combinations of ads that are likely to yield better results.


Why You Should Be Using Performance Max as an eCom Business Owner
Performance Max can be an excellent campaign tool for an eCom business owner. Nonetheless, some scenarios make it extra relevant to your business:
When you have objectified your advertising and conversion with specific goals in mind. For example; what's your lead generation goal? How much do you want to drive sales?
You aim at reaching new client segments who seem to be beyond the reach of your traditional campaigns.
You want to complement your keyword-based Search ads.
You're aiming for a high-performance ads campaign that runs on multiple channels.
By using Performance Max, you further benefit by understanding the best creative assets to communicate with your audiences. That will inform how you design future campaigns to resonate with your customers for a better marketing ROI.
Need Help with Google Ads Management?
If you're considering running Google Ads, or are already using Google Ads but haven't tried Performance Max campaigns yet, we highly recommend you try them. If you need help getting started, reach out to our team of PPC experts! We are are Google Partner and a PPC agency that can help supercharge your advertising initiatives.
Latest posts by Kevin Lucca
(see all)