I'm not able to tell you straight off the bat, imagine if everything was that easy! There isn't a cookie cutter answer for these types of questions. Research needs to be done to really know which eCommerce platform is the best for YOU.
There are some technical terms that you may or may not know of, hosted versus self-hosted. If you'd like more information on that or if you want to read about the self-hosted eCommerce platforms, you can contact us here!
In this Perspective, we will stick with hosted eCommerce platforms.
eCommerce Platforms
Let's start with BigCommerce:
BigCommerce
BigCommerce has a cleaner and easier to navigate system than other eCommerce platforms. It has an ample about of analytics and has easy to read charts. It's easy to compare previous periods and see which product fairs better. You can choose a template or customize your website. It's up to you. Payment gateways also vary. So if you want to use PayPal or another service you are allowed to do so with extra charges. The third-party apps available are limited, so some functions you would want to use aren't available. Keep in mind that this is a newer platform so that might change later on.
There are different plans available, but the standard plan starts at $29.95 per month. There are no transaction fees and you have an unlimited product, file storage, bandwidth, and staff accounts.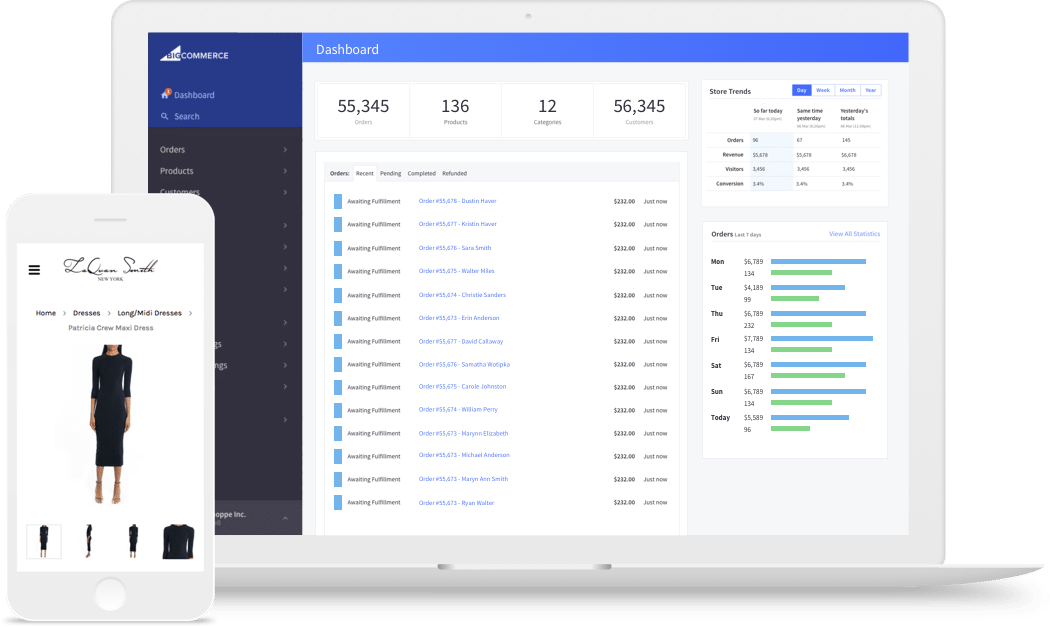 Shopify
Shopify is another eCommerce platform that has a well-designed dashboard. If you are choosing themes, Shopify has some good ones but the great ones require payment. But remember, if you're paying for a theme that means that someone else is. When running an eCommerce you want to stand out by being unique. You can't do that by having the same theme as 500 other online stores. So if you want to have a bit more customization, BigCommerce might be the way to go. But again, you might be losing some functionality because of the limited third-party apps. This is where Shopify wins since it has a bigger third-party system. Unlike BigCommerce, you are forced to use their payment gateway Stripe. There are no fees when using Stripe but if you want to use PayPal for example, they would charge extra for each transaction. Monthly pricing starts at $29.
Bottom Line
Both are pretty similar eCommerce platforms. What one has the other doesn't and vice versa. But both are great platforms. If you want to load hundreds of products, Shopify is the way to go based on our experience with eCommerce. If you are a small business that doesn't want to lose out to extra fees if you don't want to Stripe, then BigCommerce is the one. We can sit down and chat with you about which eCommerce platform is best for you considering your business and resources. We are here to help you so give us a call!