We often talk to clients about Facebook advertising and the benefits of Facebook ads for their unique businesses. Many times in our initial conversations, we hear from businesses; "Oh yeah, we are already running paid ads on our Facebook page." When we dig a little deeper and ask follow-up questions, we generally find that most clients don't have a Facebook ads account, but are "boosting" posts on their Facebook business page. I'm going to go ahead and say this now: boosted Facebook posts are not Facebook ads. Since there are a few basic similarities, the topic can be confusing, so I want to take the time today to explain the differences between boosted Facebook posts and Facebook ads.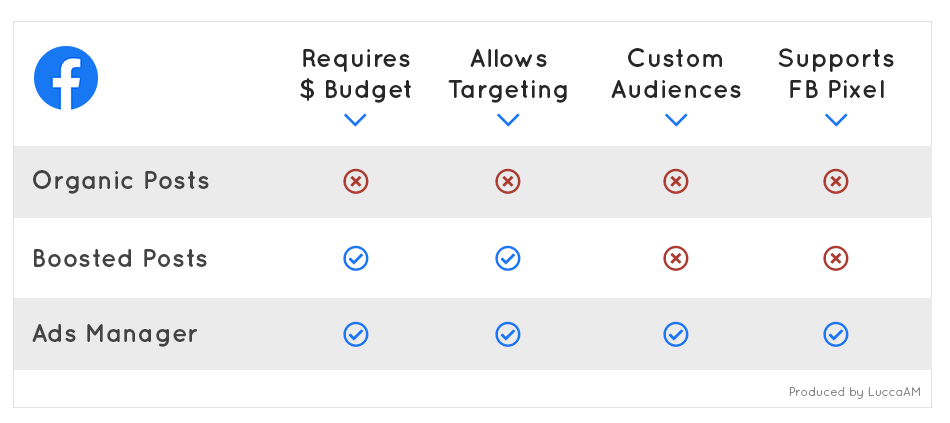 Facebook organic posts
In today's eCommerce environment, it's rare to come across a business that doesn't have a website. I'd venture to say that it's even more uncommon for a business to not have a Facebook page.
Most of us are familiar with Facebook business pages; we've managed one, or we've interacted with one, or we follow business pages and engage with them from our personal Facebook pages.
As of the first quarter of 2019, Facebook had 2.38 billion monthly active users. Worldwide, 1.47 billion people log in daily. And 74 percent of American Facebook users visit daily, with just over half of those checking in multiple times per day. This is why 42% of marketers report that Facebook is critical to their business.
Organic posts are posts made on a Facebook business page for those who follow your business page to see and interact with. Since none of us know the Facebook algorithm (which by the way is constantly changing and evolving) when you post organically, you have no way of controlling how many people see your posts, much less who sees them. Not to mention, organic reach on Facebook has steadily declined over the years. Facebook has fast become a "pay to play" environment. Even if your business page has a decent organic reach, you have no idea how your posts will perform or how Facebook will distribute them. You have absolutely no control over who sees your posts, much less if these people are the ones you want to reach to scale your business.
Boosted posts
The next step that can be achieved to maximize reach for your organic business posts is to boost posts within your Facebook business manager page. You can boost a post without setting up a Facebook ads manager account. This is because a boosted post is not technically a Facebook ad. It's an organic post that you spend money on to increase the reach of that post.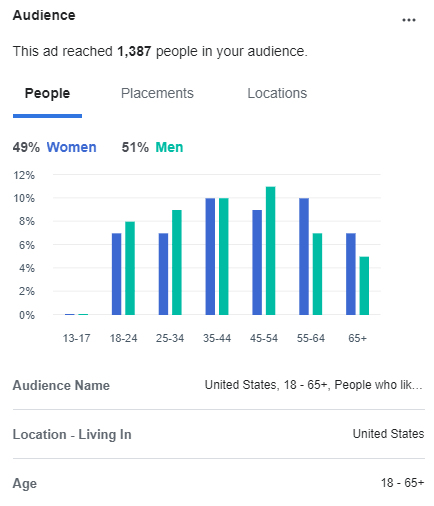 While Facebook allows you to choose parameters for your boosted post such as behaviors, interests, demographics, and geography (see image above), you can't build and create custom audiences. Therefore, you can't make decisions based on data. You're making decisions based on guessing; based on hope. While boosting may get you engagement and likes, it's not strategic for your business goals, unless your only business goal is branding, and, by itself, establishing your brand isn't a strong enough goal to scale your business long term.
Facebook ads manager
With a Facebook ads manager account, you can create custom audiences to target, you can install a pixel, and you can begin to build custom audiences based on your website traffic, your Facebook page and post engagement, and your Instagram traffic (since the platforms are connected). From there, you can create Lookalike Audiences. You can clearly define your audience (see image below).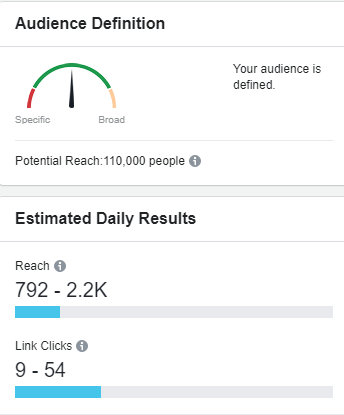 This is how you get real results with Facebook Ads and scale your business. And, unfortunately, boosting does not allow you to use any of these audience options, since boosting doesn't have detailed objectives for audience creation like Facebook ads manager does.
Decisions based on data
At LuccaAM, we run a full audit on your social media, based on your unique marketing objectives, to recommend your personal Facebook ads strategy and develop your target audiences. We analyze your competitors, further refine your target audiences, and recommend an ad budget that will help you scale your business. From there we build and launch your Facebook ad campaigns.
Each campaign must be approved by Facebook, and once approved, launches and goes through what Facebook calls a "learning" process while it matures and collects data. As that data becomes available, we dig deep into the data from your ad campaigns. From there, we refine the targeting and placements to find and close performance gaps and optimize your budget. We use A/B testing to measure the success of our optimizations and the ad messaging. After each round of testing, we stop running the lowest-performing ads in favor of the higher performers. We also modify our ad placements according to audience size, the number of conversions and click-throughs, and the content relevancy score that Facebook provides. We strive to keep measuring data, optimizing, and delivering results for your business.
When you boost a Facebook post, you are gambling with your advertising dollars. You're guessing. Hoping. Why not take those same advertising dollars, use them in a Facebook ads account, and make advertising decisions based on solid data?