Snapchat. You've had to have heard of it by now. Snapchat is big. Everyone is using it. Twitter is falling behind with only 136 million daily active users. It only comes second to Facebook, with 150 million daily users. It's projected that it will add twice as many users as Twitter and Pinterest by 2020.
The social media app was introduced in 2011 and has been offered to be bought by Facebook for 3 billion in 2013. Snapchat originated as an app that allows users to send a picture to friends that disappear forever after a number of seconds. The picture can be displayed anywhere from 1 second to 10 seconds to specific users or posted on your Story for a 24-hour span. Now it includes videos, chat function (recently including group chat with up to 16 people), filters, lenses, drawing, and other hidden features. Learn about how you can use these features and how you can use them for the following 5 things about Snapchat and improve your advertising game.
5 Things About Snapchat and Advertising
How Do You Use Snapchat for Your Business?
There a few different ways, from creating Geofilters and lenses to simply having a conversation with your followers.
1. Geofilters
There are two types of Geofilters, community, and On-Demand. Community filters are filters that artists and designers create and submit for their city, university, a local landmark, or another public location. In this type of filter, no brand logos are allowed. In On-Demand filters, businesses and individuals alike can purchase On-Demand Geofilters for their event, business, or a specific location. Brand logos and trademarks are permitted.
Vans partnered with Snapchat to celebrate 50 years of "Off The Wall" Heritage and Creative Expression using their Geofilter. This sponsored filter was pushed across the US, Canada, and Mexico and Vans also added location-tailored On-Demand Geofilters throughout the US to highlight Vans' history in action sports and the arts. This reached 32 million + snapchatters and received 98 million + views. The results from their Geofilter? The purchase intent received an increase of 37% which is over 2.5 times greater than mobile retail norms. Brand favorability increased 20 points, which is over 3X greater than Mobile Retail Norms.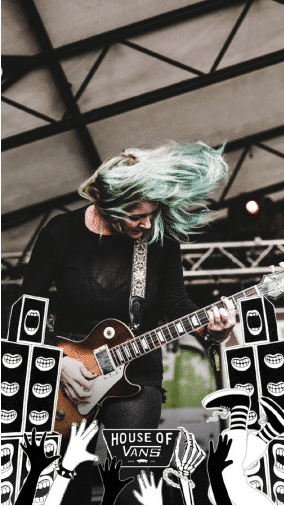 2. Lenses
There are also lenses, or filters, available. For example, Fox's Empire used a Sponsored Lens to promote the show.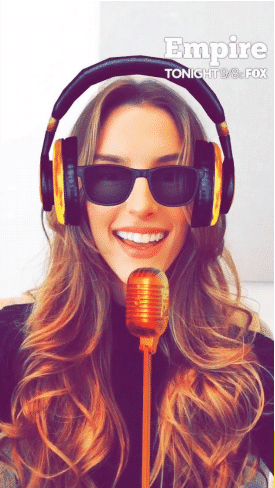 With this lens, you can show off your singing skills with your friends. While your audience has fun with the lens, your promoting your product to people who would otherwise not know about it. The lenses are basically a fun augmentation to your face or your surroundings. The cost of these lenses can range anywhere between $100,000 up to $750,000 for 24-hour Lenses. These Sponsored Lenses are the premium ad buy on the app. This type of advertising isn't like Twitter or Facebook where you can re-purpose your ad easily and quickly. The process of creating a lens requires communication and approval from Snapchat so that the animations are following their guidelines.
3. Snapchat Ads
Not only does Snapchat have Sponsored Lenses and Geofilters, but also paid ad spots.  These ads appear between users' stories, they are short, vertically oriented video ads. An example of an ad is Trolli, known for their gummy worms. According to Snapchat's case study on the ad, "the 33% lift in purchase intent was over 2.5 times higher than Mobile CPG Norms, and 90% of Snapchatters who remembered the campaign enjoyed it."
4. Daily Snaps
Make sure you snap at least 1-4 times a day. Remember, 150 million people use it daily, so that means the followers you have will also be using it daily. Keep the content constant. You can hold Q&As sessions, a snap about the weather, use a filter, draw something onto the snap, etc. As long as you're putting content out, you will remain a constant in your users feed and mind.
5. Snapchat is Different
Snapchat is different from all the other social media apps because it's fun. It has a different feel to it than Facebook, Twitter, and even Instagram. Snapchat is a place where you can post funny, absurd snaps. The average user spends 25 to 30 minutes per day on Snapchat. For something that can only last about 10 seconds, that's constant usage throughout the day. So how do you take advantage of that for your business?
Take your users behind the scenes

Show them where the magic happens. Your office space, the building you work in, or your desk! Anything that might seem boring or an everyday thing is new to your users and they like seeing content like that.

Offer exclusive videos/image content

Working on a new project? Post a sneak peek! Excite users for the final product! Recording a video for YouTube or taking headshots? Take a quick video of the process or Snapchat the people involved.

Announce promotions or sales

Take a snap of the product or service you're promoting send it individually to your users and post it on your story.
Should You Use It?
Are you wondering if you should use Snapchat for your business? It depends really.
Is your business growing and you want to gather the attention of younger people age 18-34? That's right, teenagers aren't the only ones using it. About 41% of all 18 to 34-year-olds in the U.S. can be reached via Snapchat. If your target demographic is older or less technologically inclined, wait a bit to see how brands like yours use Snapchat. Either way, keep an eye out for developments and in the meantime, get a personal Snapchat and have some fun!
Hopefully, these 5 things about Snapchat introduced you to another social media platform and has gotten you brainstorming some ideas.
We're also on Snapchat, add our username luccaallamoda or take a picture of our code with the Snapchat app!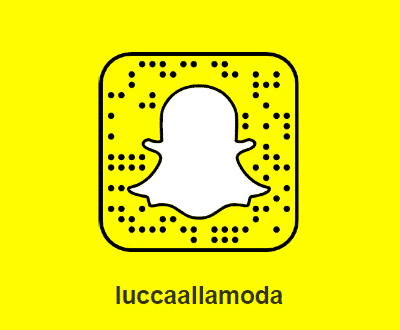 More Perspectives:
How Good Design Can Help Tell Your Organization's Story
5 SEO Tricks to Increase CTR (Click-Through Rate)