When we scroll through our Facebook News Feed, we're met with static, boring information. The "click-bait" is trying to entice you to click on their post by making you curious, angry, laugh, or all of the above. But, you realize that's the only thing that grabs your attention on Facebook. Rarely is there a text, image, or video that makes you laugh and engage with the company or brand. Sure, you tag your friends or family in a post of a cute dog video or a graphic that you relate to. But, the conversation ends there with the page. You rarely like the page and you forget about it with the next scroll.
Facebook has its own voice just like Twitter, Instagram, Tumblr, Reddit, etc. Each one is its own world, it has its own syntax, following, and purpose.
That means that your business needs to fit into each one. When the content created for each social network feels forced or out of place, there is no engagement or loyalty. There are many ways to learn what the voice is for each network but the number one way is to be on it and explore it.
But my number one suggestion is to not be afraid. Social media is fleeting. What you post today won't be relevant 72 hours or even 24 hours. There is always something waiting in the curtains to take the place of what you just posted. This is hard in terms of staying relevant but also gives you a big playground to throw some dirt around.
For example, would you follow a company that sells a graham cracker sandwich with marshmallow filling in the center on Twitter?
Most likely not unless you're a HUGE fan of those ingredients. BUT there are actually 181 THOUSAND people that follow an account just like that.
Say hello to the Moon Pie Twitter account.
Moon Pie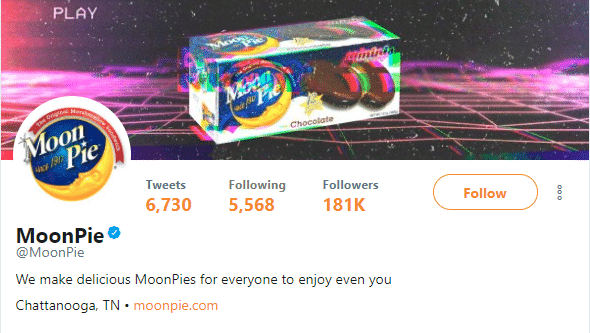 So how can a snack stay relevant and build a following, even for those who don't actually enjoy Moon Pies?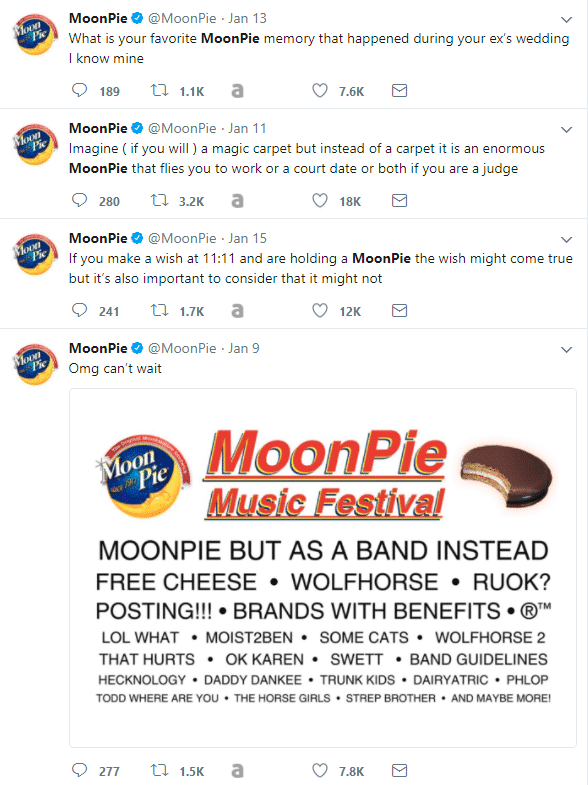 What may look like absurdness to you is what is relevant "now." Who are the people using social media actively? Teens to those who are in their mid-30s! A Moon Pie is at most a $1.50, it's a product almost anyone can buy. But they are targeting those Gen X, Y, and early millennials. They're a much bigger demographic than those over 40. Plus, they have that social reach that you, as a company, crave. This is the voice they have on Twitter but the voice on Facebook?
[su_column]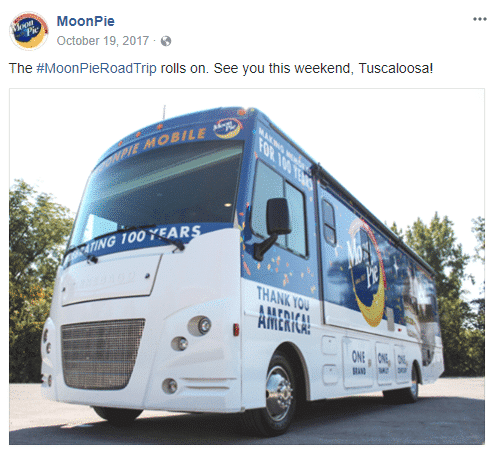 [/su_column]
[su_column]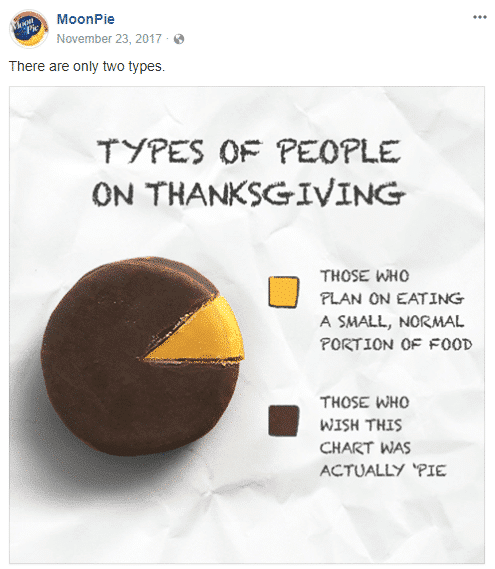 [/su_column]
You can automatically see the difference in voice. Facebook is much more reserved and they don't post as often. That's just the way it is. You have to research the audience that uses each social network and work with that voice. Notice they aren't pushing sales, promotions, or any other selling tactics on their accounts? A simple tweet sent out by Moon Pie, "Who up" is enough to get people talking about them. That's what the goal of social media is. Getting your name out there, building exposure, and the sales will follow. Not everything should be about your product or service, no one wants to follow an account like that.
Don't Follow the Rules
Did you notice something about the way the text was written? The tweets have no punctuation! That's perfectly okay! It's how people write online and sometimes they don't capitalize each sentence or even the word "I." It's not lazy, it's a faster way to get information across. That's what Twitter is ultimately about, fast communication. Take a chance like Denny's did, or like the Vegas Golden Knights, you might be surprised by the results.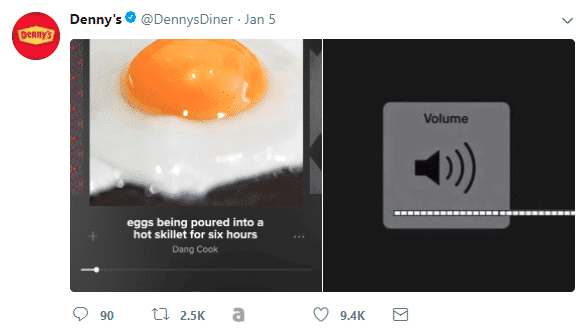 Ever feel like responding to a customer with a snarky or witty response? You can do that. Make sure you don't take it too far though. Moon Pie does that but they are in a position to lose one customer. Even with the loss of a customer, the response can bring in new fans. This after creating a solid foundation, another thing to keep in mind.
Keeping this all in mind will change how you reach out on social media and that's okay! The landscape is always changing with YouTube houses (Clout Gang), ex-viners turning singers, and tweets getting out of taking a school final.
Or better yet, a tweet that gets you a photo session with a Stranger Things star.