As SEO Specialists, it is most important to keep our education up to date for the ever-changing world of algorithms and practices.
---
What we once knew to be important in SEO practices, just might be the complete opposite.
A true SEO Specialist is one that stays up to date with the latest practices and updates on algorithms. In SEO, part of the experience comes from constant research, education, and involvement. Unfortunately, many SEO's have taken what they've learned in the past and continued to practice the same tactics for their clients. All which can be irrelevant to search engines today.
With more people browsing on mobile devices and quality mobile listings growing in importance, Google has to reduce its dependency on the link graph. If the mobile web page is not as strong as the desktop version it is linked to, clearly, the link-based method of assessing quality is not strong enough. The application of machine learning to ranking signals will accelerate progress, so it is only logical that user signals are weighted more heavily as time goes on.
SEO is changing every day and in some instances, a few practices may still be the same and relevant, but this is not true in many others. The practice of outdated and irrelevant SEO tactics can cause paid SEO efforts to be wasteful and potentially harmful to a company's website and brand. Three SEO misconceptions about SEO practices today are as follows:
Meta Tags
Backlinks
Keyword Stuffing
SEO Misconception 1 – Meta Tags
Meta Keyword Tags are no longer relevant. Search Engines dropped this process because it was heavily spammed. However, your title tags and meta description tags are still relevant today. To give a visual example, when you search a topic or question on Google, Bing or other search engines, you are given a list of results called the SERP (Search Engine Results Page). The title tag is just as it sounds… the title of each result seen at the top of the snippet. The description tag is the 2-3 sentences below the title, summarizing what the content is and this is what will be the decision maker for those who choose whether or not to click your link. Tip: Start your description with a question or CTA to entice more people to click your link over others.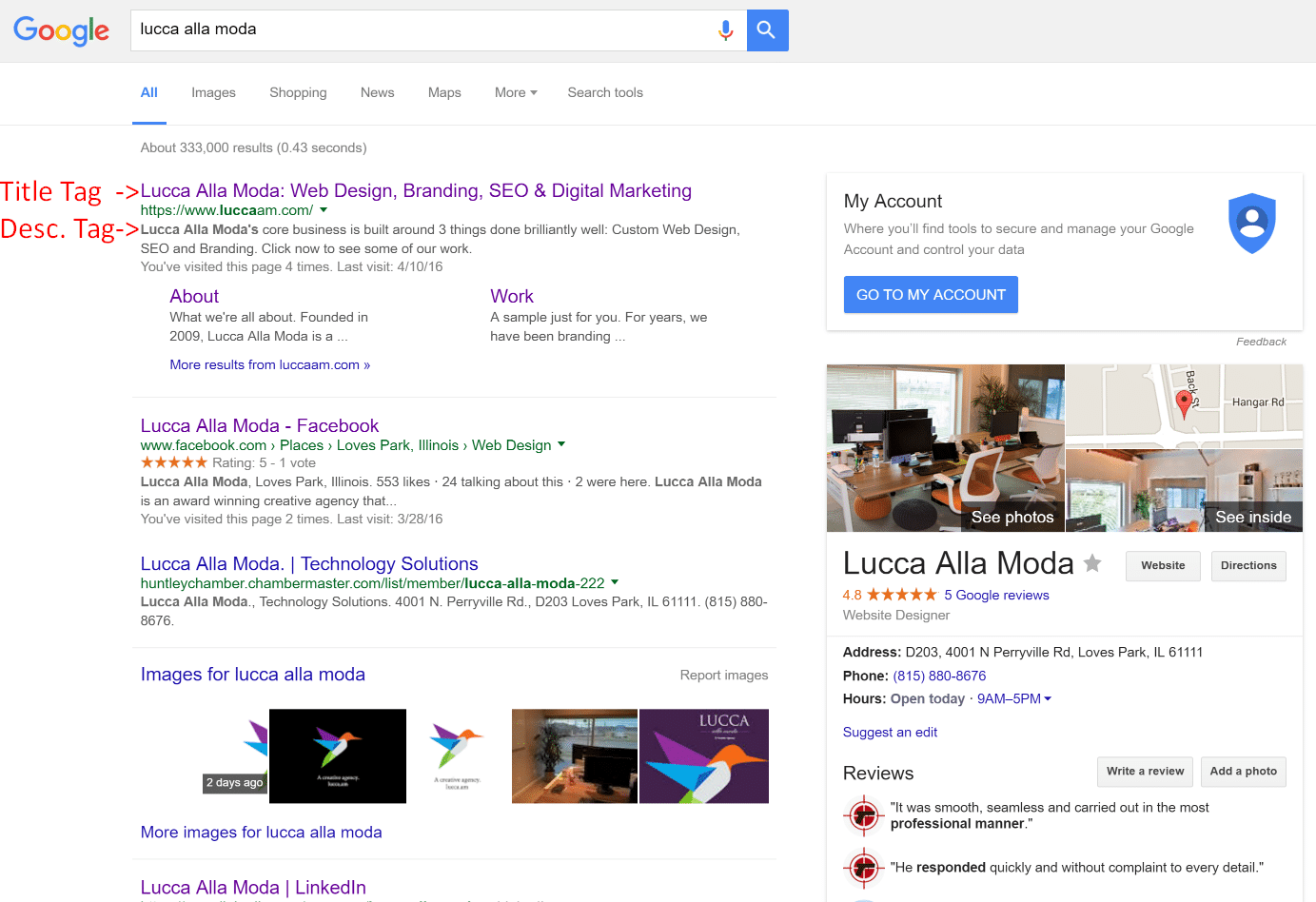 SEO Misconception 2 – Backlinks
Don't be fooled by someone telling you that you need hundreds of backlinks to rank high. The truth is, it is better to have one quality backlink than 100 low-quality backlinks. An example of a high-quality backlink is those that are placed on Web 2.0 site. Sites considered Web 2.0 are the very popular sites like Google, Facebook, Yelp and so forth. Low-quality backlinks are placed on sites with very low traffic and ranking scores like miscellaneous blogs.
SEO Misconception 3 – Keyword Stuffing
You know you need keywords to place in the proper areas in order to rank for those search terms, but be careful not to stuff your content with them. Have you ever read an article that was difficult to read because of an awkward flow of text? Most likely you keep seeing the same 3-5 words placed all over the article making it awkward and uninformative for what you were actually searching for. When a site stuffs keywords to force rankings, search engines can flag that site as spam once they crawl it. Once flagged as spam by search engines, it is incredibly difficult and time-consuming to recover. Some suggest that a site never truly recovers when this happens and others quite frankly give up after trying for several years.
These three SEO misconceptions about current practices reflect the disconnect between a large group of SEO strategies and what the client truly needs. Having an SEO specialist approach your SEO tactics with old and out-of-date practices is likely to result in poor optimization and even negative results.
Applying current and effective SEO strategies for your website will generate higher rankings, thus increasing your reader viewership and ultimately obtaining new clients and/or sales. Let us know your thoughts about these 3 SEO misconceptions!
Watch the Video:
Now you know 3 SEO misconceptions, find out how you can rank your website higher!
And for more Lucca videos check out our YouTube page!