Google recently announced upcoming changes to how your website will appear to visitors using its popular Chrome browser. Google has been pushing hard to secure the internet with changes to their search engine algorithms as well as their browser, Chrome.
Not too long ago, Google announced that non-HTTPS websites will see it affect their Google search rankings. In the past, mostly, shopping and bank websites utilized HTTPS, today, even content only based websites need to be HTTPS.
Largely due to Google's actions, more websites are serving their website over an HTTPS connection (website with an SSL certificate). It's gotten to a point where Google is now going to let the user assume a website is secure by default.
Currently, when a Google Chrome user is on an HTTPS page,  it shows a green padlock icon and the text "Secure" in the address bar to let the user know. With a new update in September, the green markings will go away and the user will only see a grey padlock icon. Eventually, Google will phase both out.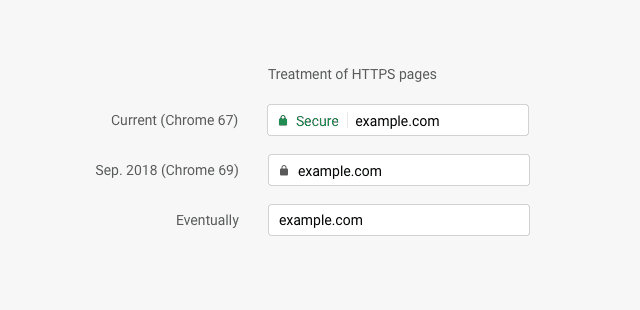 Starting in October, when a user starts to enter information on a non-HTTPS page, the address bar will show a red "Not Secure" notice along with a warning icon.
Your Takeaway
If you are a website owner and your website is currently not using an SSL certificate, don't hesitate and add one to your site immediately. There are many places to purchase an SSL certificate such as GoDaddy. There is also a good chance that your current web hosting offers SSL Certificates.
Have some questions about this change or if your website needs an SSL certificate? Don't be shy, contact us.
Images Source: Google
Latest posts by Kevin Lucca
(see all)