Understanding Local SEO
Local SEO is an essential search engine optimization tactic that elevates the prominence of your business in local Google search results. This strategic approach is instrumental in catapulting your business to the forefront of "near me" or geo-specific searches, thereby bolstering in-store customer visits. 
Moreover, Local SEO extends your digital footprint by driving increased web traffic when your business ranks higher in local search outcomes. This amplified online visibility can, in turn, lead to enhanced sales performance.
Key Elements of Local SEO
Google Business Profile
Creating and optimizing a Google Business Profile listing is crucial to local SEO. GBP profiles appear in Google Maps and local search results, making your business more discoverable.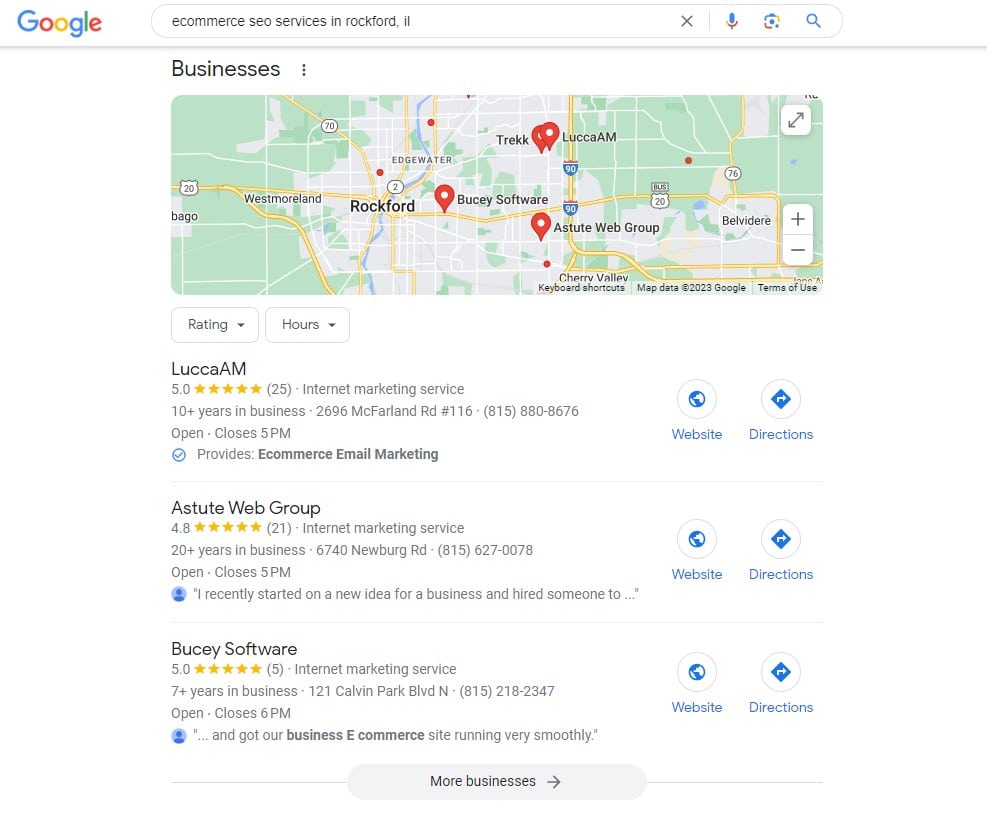 A well-optimized GBP listing allows you to share updates with customers, respond to reviews, and upload photos, enhancing your business's credibility and giving potential customers a snapshot of what to expect. This can significantly increase the likelihood of attracting local foot traffic and website visits.
It's also worth noting that Google favors businesses with complete and regularly updated profiles. Therefore, maintaining an accurate and engaging GBP listing can boost your ranking, increasing your chances of standing out in a competitive local market.
Local Citations
NAP (Name, Address, Phone number) consistency across online platforms is a ranking factor for local SEO. Ensure your business details are uniform and updated on your website, social media profiles, and online directories.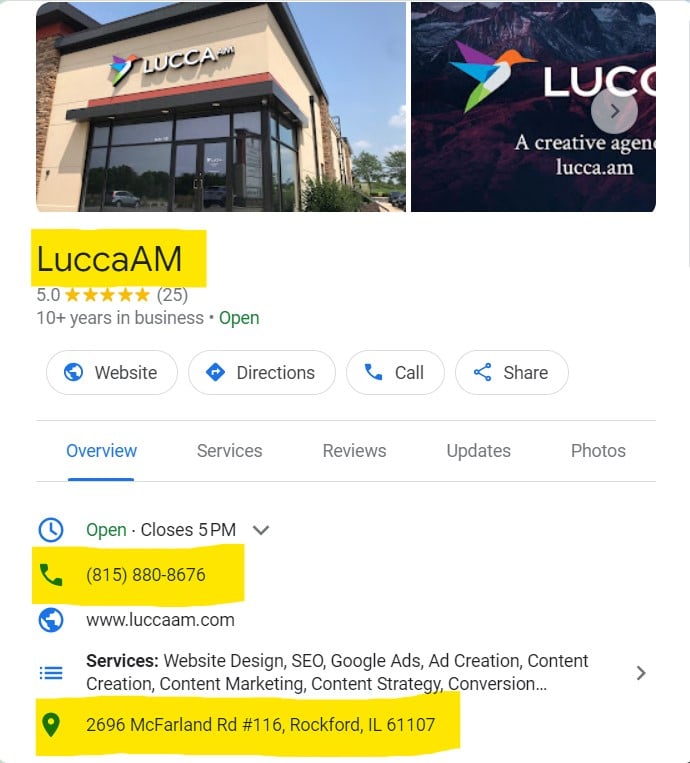 List your business in popular local directories such as Yelp, Yellow Pages, and TripAdvisor. These serve as additional channels for potential customers to find your business.

Local directories can function as supplementary channels for garnering customer reviews, another influential factor for local SEO. 
Customers often use these platforms to share their experiences and feedback, and a steady stream of positive reviews can increase your business's appeal to prospective customers.
Local Keywords
Targeting keywords based on location helps search engines understand your local relevance. Including these in your content increases the chance of ranking higher in local search results. Include location-based keywords in meta tags, URLs, and on-page content.

Crafting content that resonates with your local audience can boost your SEO efforts. Localized content, like blog posts about local events or news, can make your business more relatable and attract local traffic.
In the example above, you'd want to ensure "SEO services in Rockford, IL" makes up between 3-8% of the total content. Using this keyword density rule-of-thumb, you tell Google what your content is about without going overboard and "keyword stuffing."
How to Optimize for Local SEO
Encourage Reviews
Reviews significantly influence your local SEO ranking. Here are some great ideas for generating more reviews:
Request Reviews: This one sounds simple – ask customers directly to leave reviews after they use your service or make a purchase. You'd be surprised at how many customers are willing to leave a review!
Email or SMS Reminders: Send friendly reminders with a direct link to your Google Business Profile to customers' email or mobile.
Offer Incentives: Motivate customers to leave reviews by offering small incentives like discounts or freebies. According to Google's guidelines, all reviews must qualify for the incentive offered, even under five stars.
Use Social Media: Remind followers to review via your social media platforms and share your Google Business Profile link.
Respond to Reviews: Promptly and professionally respond to existing reviews to show you value customer feedback.
Exceptional Service: Provide an outstanding customer experience to motivate positive reviews.
Point of Sale Reminders: Place signs or posters with QR codes in your store to remind customers to review.
Here is how to make a QR Code that leads to your Google Reviews:

1. Go to your Google Business Profile (business.google.com) and click "Ask for reviews."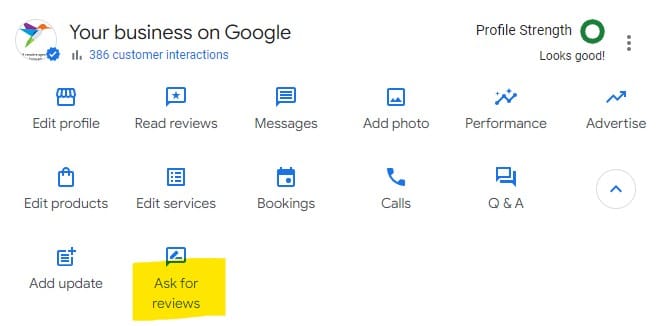 2. Copy the reviews link.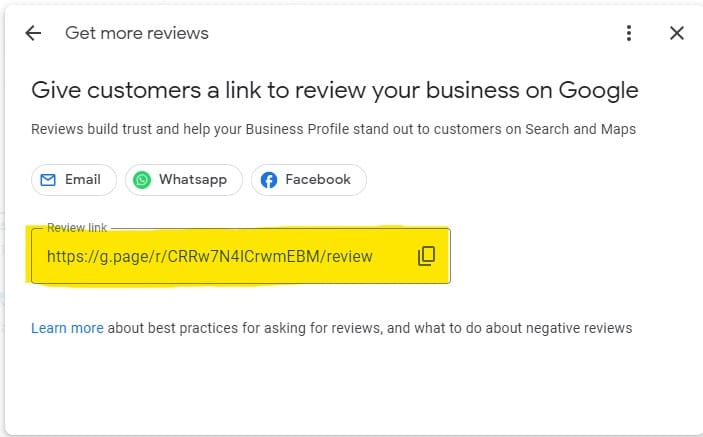 3. Go to this free QR code-generating website (https://www.qr-code-generator.com/) and paste the link to your reviews in the URL area. Then click "download JPG."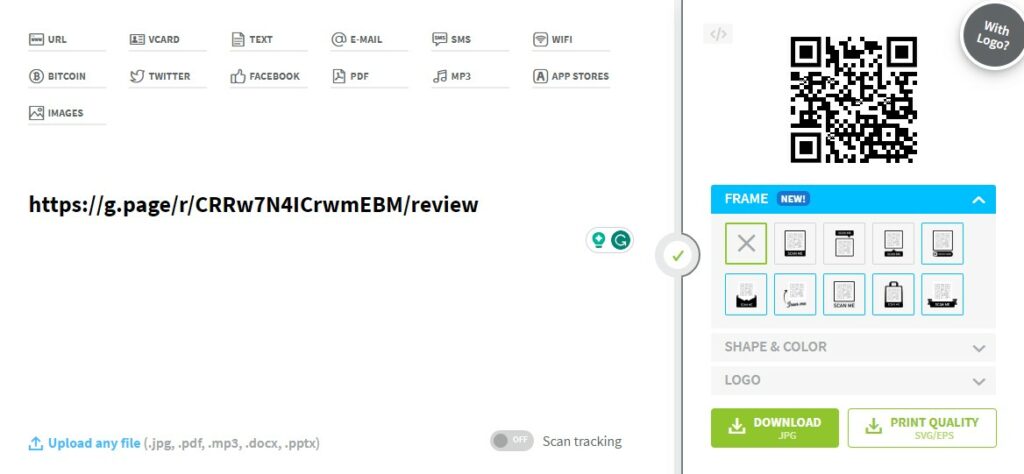 4. Print out your QR code and put it on business cards, posters, pamphlets, or anywhere people can find it easily.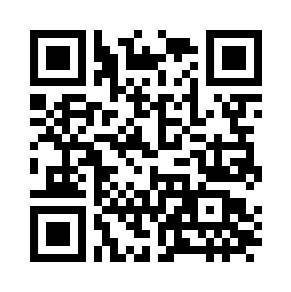 Leverage Social Media
Social media platforms are crucial for local businesses to interact with their audience and promote their services. 

These platforms enable businesses to share updates, offers, and content to keep audiences engaged. Features like check-ins and geo-tagging can boost local visibility as customers share their location and posts are tagged to specific areas. 
This enhances the business's chances of appearing in local searches. Also, customer reviews and ratings on these platforms enhance the business's reputation, drawing more local customers.
Conclusion
Local SEO has become an essential tool in our rapidly digitizing world, driving increased visibility, in-store visits, and website traffic, significantly enhancing sales performance. 
By optimally utilizing components like Google Business Profile, local citations, targeted local keywords, customer reviews, and social media, businesses can thrive and gain a competitive advantage in their local markets. 
Mastering Local SEO isn't merely about keeping up with digital progress—it's about steering your business toward enduring success.
FAQs
What is Local SEO?
Local SEO is a strategy that enhances your business's visibility in local search results on Google.
Why is Local SEO important?
Local SEO increases your business's visibility, boosts website traffic, and enhances the user experience.
What are the key elements of Local SEO?
Key elements include Google My Business listing, local keywords, online reviews, and local citations.
How can I optimize my business for Local SEO?
You can create local content, leverage social media, and encourage customer reviews to optimize for Local SEO.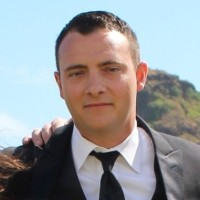 Latest posts by Jason Rostar
(see all)