What's perfect for one business's shopping campaign, is not necessarily perfect for another. So, let's dive into what will help make the perfect shopping campaign for your business.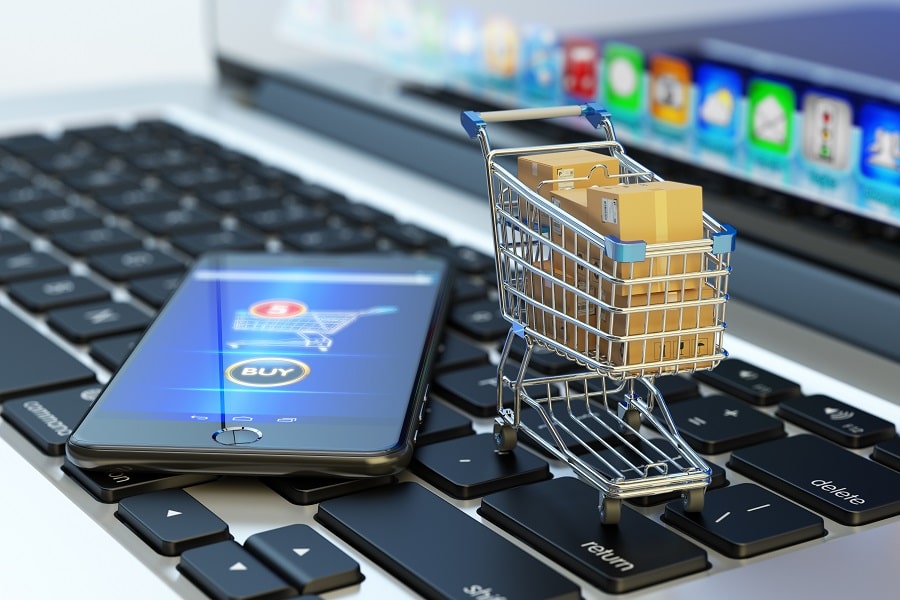 What are Google Shopping Ads?
These…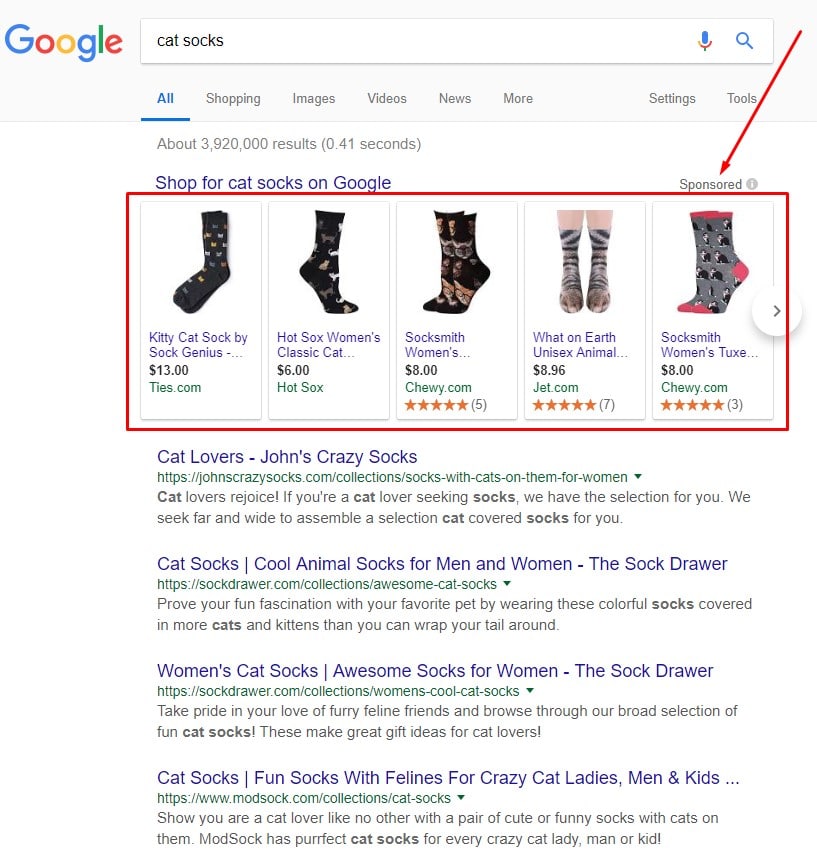 The answer is that simple, Google Ads are the products in the white boxes that appear above search results. You can click and buy…easy peasy. But what's not easy peasy is building, maintaining, and constantly optimizing shopping ads on the backend in Google Ads.
The most important factors in setting up the perfect shopping campaign, involve using and implementing the following:
Google Keyword Planner
Campaign Strategy
Proper Ad Groups
Product Groups
Product Optimization
Google Keyword Planner
Keywords! Google Keyword Planner (GKP) is what you will use to find the most valuable keywords to bid on for your shopping ads. Let's say you want to bid on the keyword "Cat Socks" so that when someone types "cat socks" into Google, your ad shows up. Sounds simple, but wait…there's more!
If you type "Cat Socks" into GKP, Google will show you data on other relevant keywords that could help your conversions. In addition, you may also see keywords that Google finds relevant, but you do not. Meaning, you will have a better idea on which keywords to put into your "Negative Keywords" list so that you're not wasting money on bidding on a keyword like "socks for cats."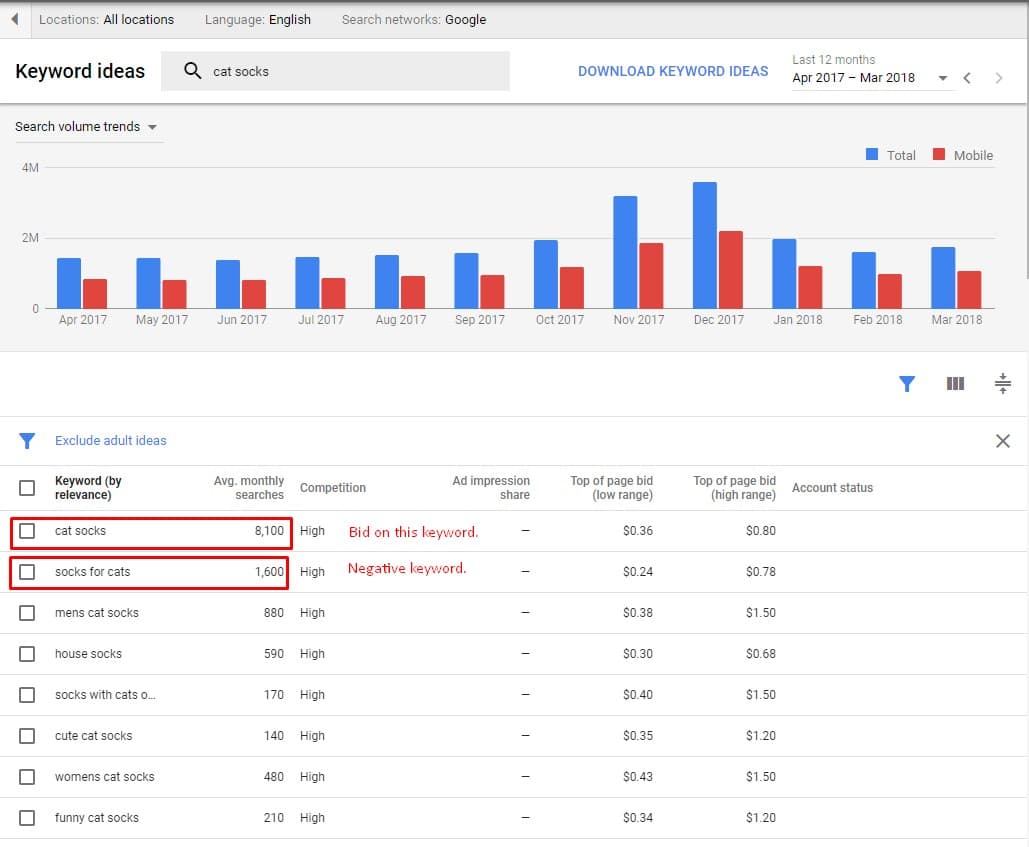 Campaign Strategy
Shopping campaigns are not just "set it and forget it." You need a solid strategy to reach your goals.
First, you need to decide what the goal of your campaign is. Because we're talking about shopping campaigns, our goal will be sales.

Our goal is sales, and we know the type of campaign we want will be shopping. Easy enough, sure, but this is the tip of the iceberg. Make sure you have Google Merchant Center account set up and installed with all of your products in order to continue with the shopping campaign. Google Ads will ask you to select a Merchant Center Account once selecting "Shopping."

You will want to be educated on bid strategies. If you have someone else managing your campaign, make sure to ask them what their bid strategy is, why they chose that strategy, and what they plan to do with that in the future. We won't go too deeply into each of these bid strategies in this article, but for a brief overview we can see the 4 bid strategies below: Target ROAS, Maximize clicks, Enhanced CPC, and Manual CPC. For more information on bid strategies, please don't hesitate to shoot us a message via our contact form, on social, or a give us a call.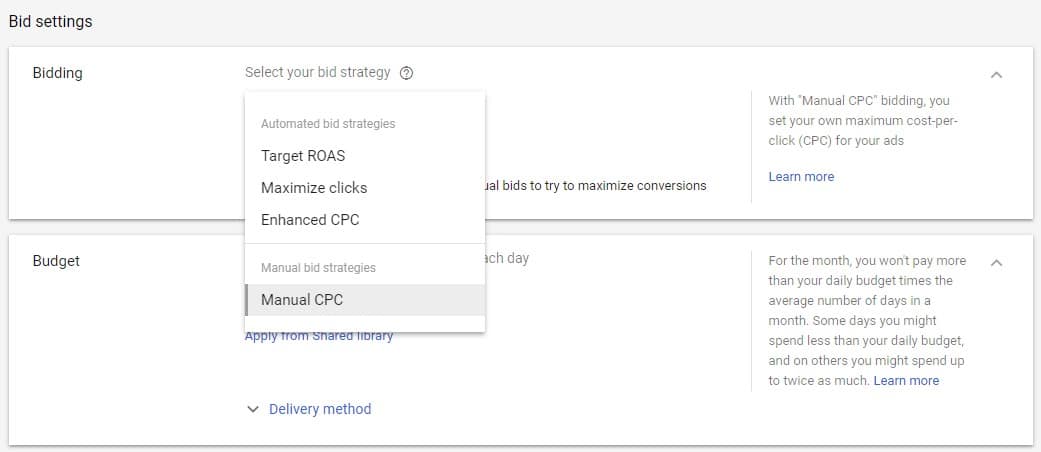 For targeting settings, you will want to be careful here. Choosing where your shopping campaign ads up can cost you more than you bargained for if you're not sure where you want your ads to appear. For instance, the below settings show where Google pre-checks "Include Google search partners." This is not always the best route to go, and I don't suggest using it on a new campaign because you will be spending your budget much quicker and for a new campaign, it might be best to begin your campaign on the search network only. I advise this to help reign in the data you will want to analyze for the first month of your campaign.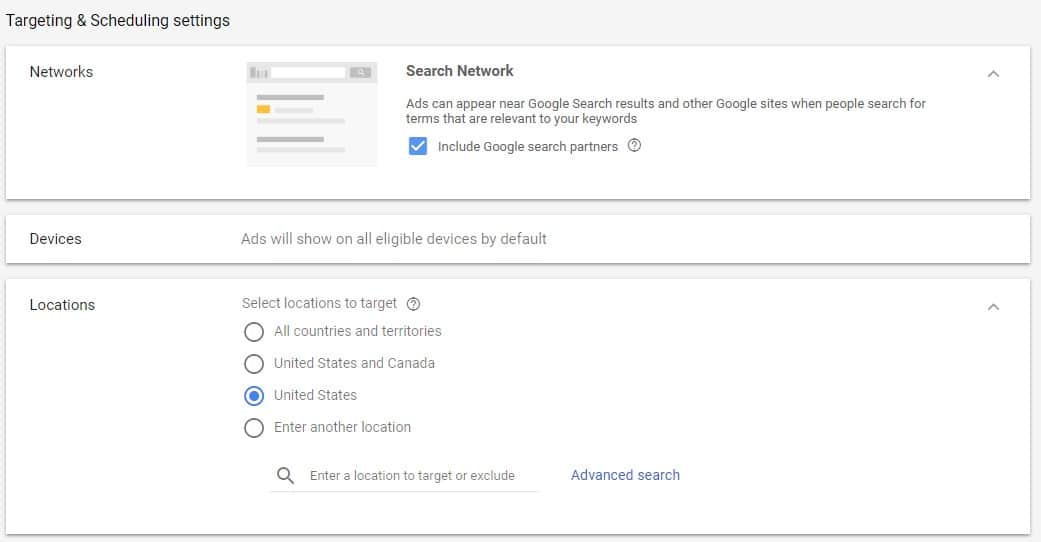 Proper Ad Groups
Google has made a lot of changes to their Ads platform recently. The images being shown in this article, are images from their new platform. Compare that to Google's own support website which still shows outdated help articles from the old platform. That shows how often — and quickly — Google updates their system. So, it's vital to stay ahead of the game and be educated on all-things-new in Google.
That being said, Google Ads launched the second type of Ad Group for shopping campaigns… Showcase Shopping [UPDATE: As of April 1, 2021, Showcase Shopping Ad Groups have been removed]. This is the area where you want to decide if you want your products displayed on their own, or in a showcase as seen below.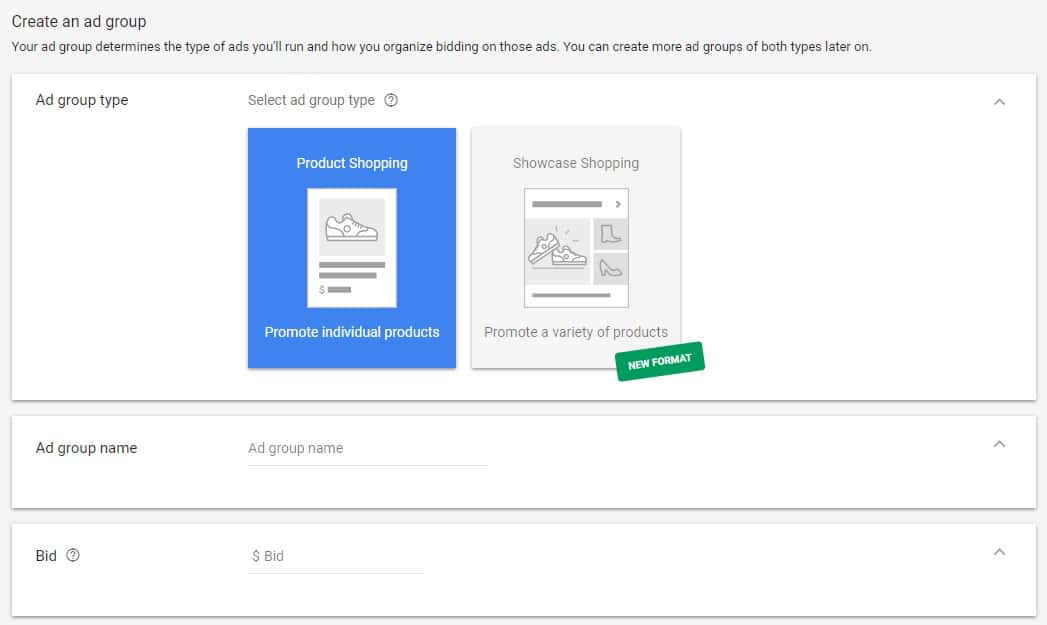 UPDATE: As of 4/1/2021 Showcase Shopping Ad Groups were removed.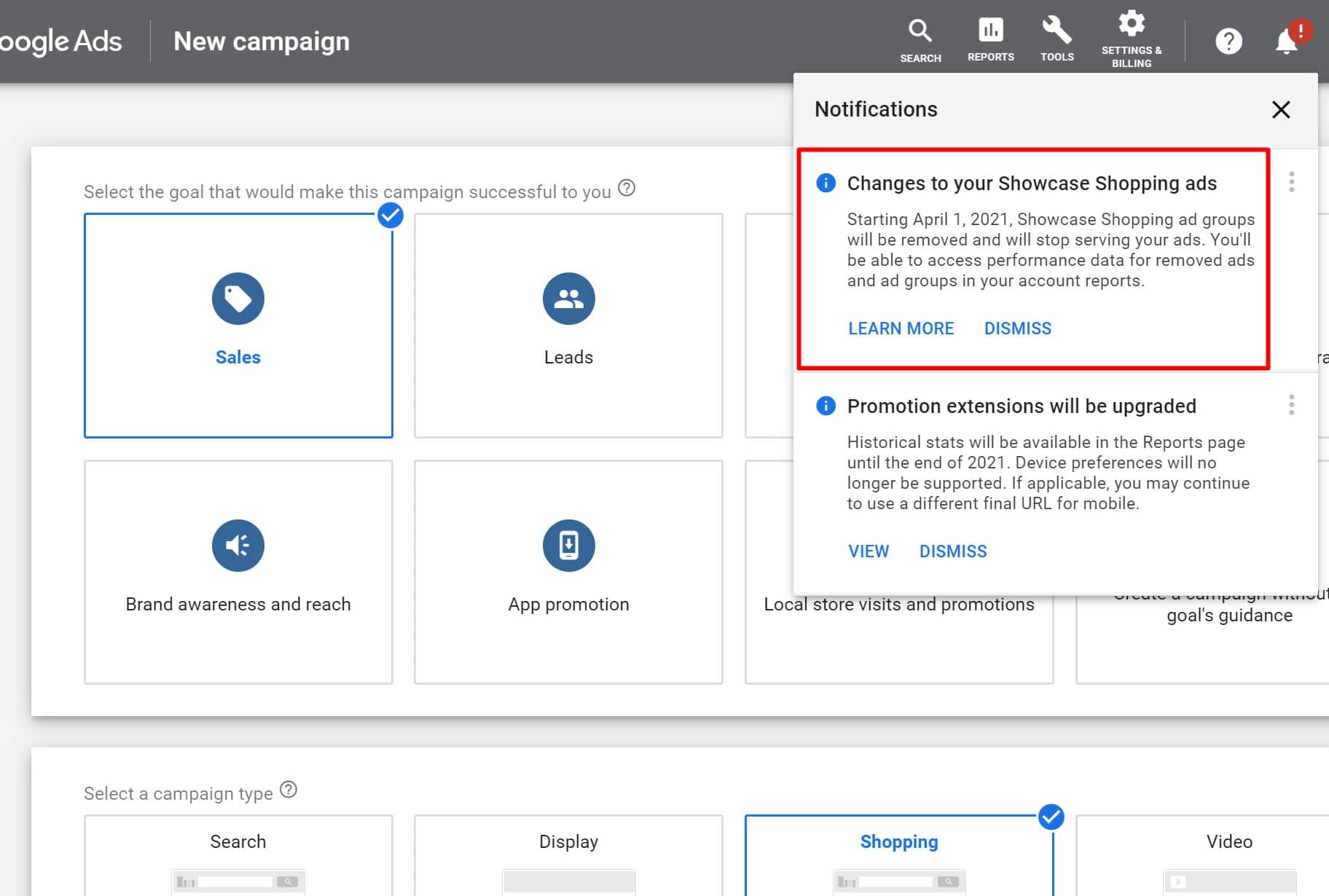 *Tip: You can create an Ad Group based on products that have a high value/conversion. You do this by custom labeling in product groups and then placing them in their own Ad Group.
Product Groups
Do you really want to bid on every single product you have? If so, group accordingly! You can group your products by Category, Brand, Item ID, and the list goes on as seen in the screenshot below. Whether you want to run ads for a select group of products, or for all of your products, grouping is vital to make sure you're spending your budget wisely.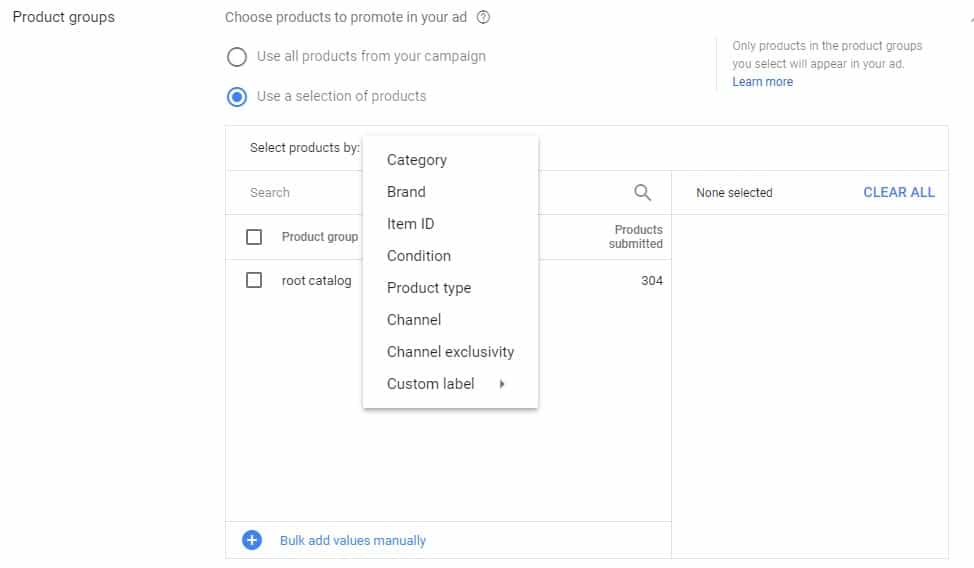 Product Optimization
This is the part that you do off Google and on your website. Make sure all your products are optimized by having as many identifiers as possible. Identifiers include Name, GTIN, MPN, SKU, Description (focus on keywords in description), Image, and so forth.
Summary
Whether you're running your own Google Ads Shopping Campaign, or you're having someone else or an agency run it for you, be prepared. Ads Management is a full-time job when managed properly and if not, you'll find you're spending a lot of money with very little return. Have an agency or internal employee running your campaign? Ask questions! Have them read this article and make sure they're educated on the latest platform, tools, options. The more knowledge you have, the better off your campaign and your ad dollars will be.